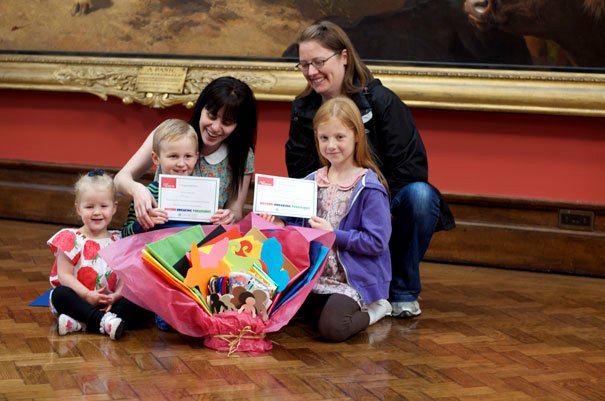 Three lucky winners of the ever popular annual Treasure House Children's Trail prize draw.
First Prize went to Morgan Menzies-Baird from Beverley, with Harriet Brady and Chloe Wilson winning second and third prize.
Nearly 200 families took part in the Treasure House Children's Trail this summer, which aims to give families an opportunity to explore the different parts of the Treasure House building.
This year's theme was on record-breaking facts about the Treasure House and its collections of books, archive documents and museum objects.
Morgan said that he was keen on sharing his prize, a family pass for Sewerby Hall and Gardens with his family.
His mother said the whole family enjoyed the day as it took them to different parts of the building that they hadn't been to before, like the museum and the art gallery.
For the youngsters, it seems the games and puzzle solving were their favourite parts of the trail. Both Morgan and Harriet also enjoyed Hopscotch.
This version of the game was devised for people to guess the length of the longest document housed at the Treasure House, which say was their favourite activity.
Harriet also enjoyed estimating the size of the largest painting on show at the Beverley Art Gallery comparing it to a project she was doing at school on measuring.
Preparations are already underway to plan for another bumper summer in 2016, meaning parents can enjoy a fun, free family activity during the long summer holidays.