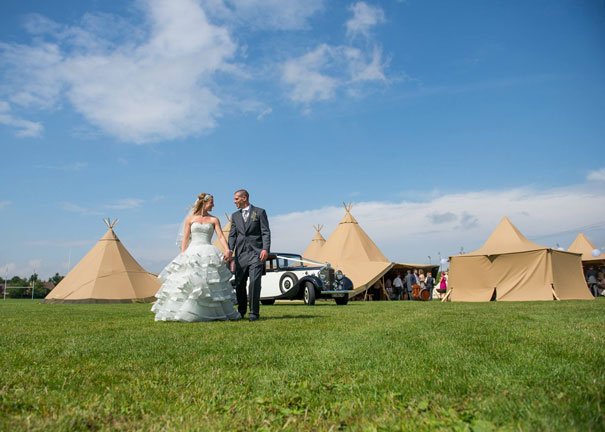 A Beverley based business is celebrating after winning an award at the prestigious Wedding Industry Awards.
Boutipi, a family business set up in 2013, was named North East Marquee Provider of the Year at the annual Wedding Industry Awards, which recognises and rewards excellence from suppliers in the wedding industry. The event attracts thousands of entries from UK wedding suppliers and is widely regarded as the 'Oscars' of the wedding industry.
Boutipi, a provider of Scandinavian tipis for weddings and special events, won praise from the judges for the quality of its customer care, beating off stiff competition from a wide range of marquee providers to be named a regional winner.
The family business, which is run by four members of the same family, was founded when Beverley-born Michelle Booty, one of the directors of Boutipi, and her partner Richard Bussey got engaged in the summer of 2013 and set about the task of locating an out-of-the ordinary wedding venue for their 2014 marriage celebration.
They considered everything from marquees to country house hotels, but found nothing with real 'wow factor' until they saw some Scandinavian tipis. Michelle and Richard fell in love with them and unable to find an affordable tipi provider. They decided to create a tipi business themselves.
They were joined in the venture by Michelle's mum, Carole Booty, who has several years' experience in event planning, father and local businessman, Rob Booty, Michelle's sister, Sam Booty, and her fiancée and construction expert, Ellis Robinson.
Two years after launch, the company has now provided its tipis for weddings and events across the country.
Boutipi will now go through to a national final on Thursday 14th January 2016 at the Café De Paris in London, where the company is hoping to be named 'Best Marquee Provider in the UK'.