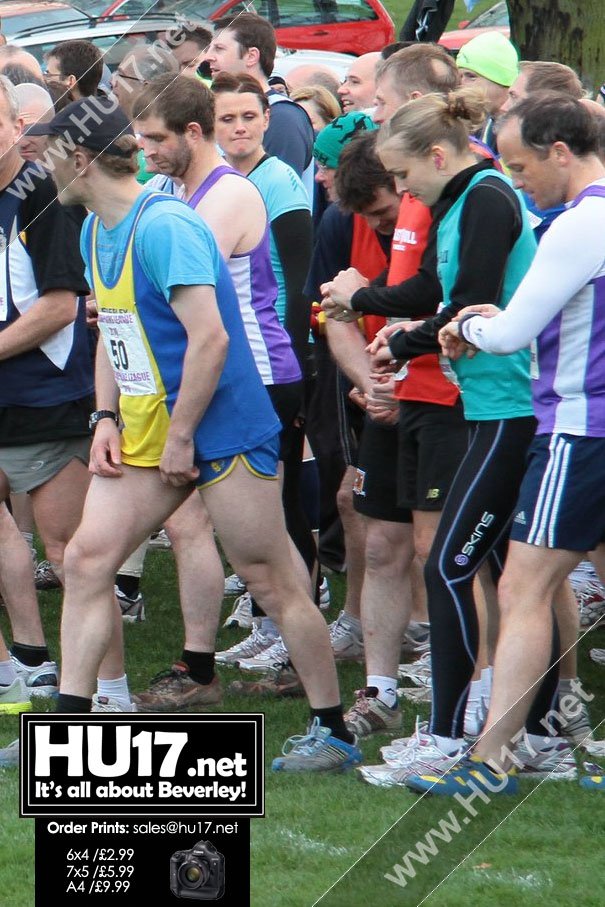 A strong field of 191 runners turned out last Sunday for the second race in the 2015/2016 East Yorkshire Cross Country series.
The race is organised by Beverley AC, and uses footpaths and tracks at Drewton Woods, near South Cave. It covers a demanding and hilly six and a half miles, and was slippery in places following heavy rain the preceding day. It was wet again before the race, but the rain held off during the event although conditions were muddy. Including a number of challenging climbs, the course ends with a fast downhill sprint to the line. 31 Beverley AC athletes completed the race.
Beverley's men's team cemented their second position in the league at Drewton, being beaten once again by City of Hull AC despite having several runners taking good places in the race. The club was led in by Richard Buckle who ran an impressive 42:20, taking 5th place overall.
Next were Lewis Holloway, taking 7th place in 43:58, and Lee Phipps just 13 seconds later, finishing in 8th place in 44:11. Phipps was followed by Stuart Little in 16th place; his time of 46:04 would have been faster had he not turned his ankle on a slippery stile about one mile from the finish, resulting in him jogging to the finish. Completing the 6-man team were Luke Davison in 46:45 and Darren Edge in 46:47.
Beverley's women's team took 5th place at Drewton, and are also 5th overall in the League, which is led by City of Hull AC. The team of three was led in by Emma Greensmith in 57:24; Greensmith was the 13th female finisher. The other two counters were Kathryn Roberts and Jackie Hardman, who finished in 58:43 and 61:48 respectively, as 15th and 21st women.
Race winners were Phill Taylor (Bridlington RR), who took just 41:50 to complete the course, and Ker Pearson (City of Hull AC), who finished in 47:29.
The third race in the six-race series will be at Langdale End, on the North York Moors, on Sunday 13th December.
Beverley AC finishing times: Richard Buckle 42:20; Lewis Holloway 43:58; Lee Phipps 44:11; Stuart Little 46:04; Luke Davison 46:45; Darren Edge 46:47; Dave Morrison 47:52; Adrian Messingham 48:36; Steve Evins 52:02; Andy Johnson 53:16; Jim Harbidge 55:25; Paul Clark 55:47; David Haynes 56:28; Emma Greensmith 57:24; Kathryn Roberts 58:43; Pete Watkinson 58:58; Alan Flint 59:34; Jackie Hardman 61:48; Andy Wilks 63:14; Adrian Holland 63:23; Steve Richmond 63:34; Dianne Coleman 65:37; Steve Williets 65:38; Neil Plummer 66:28; Alex Gymer 66:51; Andy Gray 68:00; Lynne Stabler 71:22; Christine Hemingway 73:58; Carol Lingard 83:53; John Boardley 85:35; Jacqui Dickinson 87:22