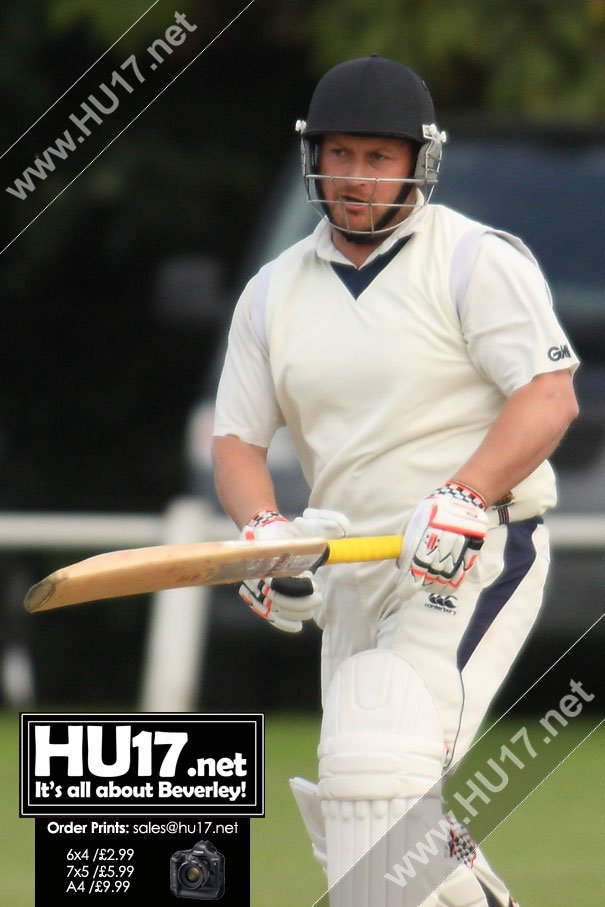 There was another dramatic finish at at the Norwood Recreation Ground as Beverley Town Cricket Club  beat Studley Royal with just three balls to spare.
Anthony (65) and Rob Mackle (68) starred as the away side scored 267-5, Ben Coad (31) and Rob Nicholson (31) also chipping in as Kieran Thompson finished with 4-84.
Jonathan Fisher scored the days' only century making 121, Town's reply also including 49 from Olly Grantham and 40 from Anthony Spence and their combined efforts were enough to ensure Matthew Coad (5-55) ended on the losing side.
Else where Sheriff Hutton Bridge saw their lead at the top of the Hunters York & District Senior Cricket League Premier Division increase to 28 points despite being held to a draw as nearest rivals Woodhouse Grange lost at Dunnington a result which secured a top six finish for the home side, leaving just one promotion place still to be decided.
The leaders moved a step closer to the title and could have increased their advantage further had it not been for Easingwold's last wicket pair. Mark Fisher did his best to secure maximum points for the hosts finishing with 5-48 as the visitors closed on 172-9, James Postill top scoring with 59. Earlier the home side reached 210-8, Paul Scaling's 33 the pick of a batting card which showed plenty of players getting starts but none able to go on as Stephen Piercy picked up 4-53.
Reigning champions Woodhouse Grange's chances of retaining the title received a setback as they lost by 30 runs at Dunnington. Skipper Jack Bolam's produced a captain's innings of 92 and support from Dan Barrett (37) and Adam Iyer (28) saw the home side reach 209-8, Andrew Horner taking 3-37. With Steve Burdett (37) back at the helm and stand-in skipper Andrew Bilton (48) both in the runs the total looked under threat but Tom Loten (5-35) and Dave Brent (3-67) combined well to ensure the hosts would be joining their opponents in the Premier League next season.
Acomb put aside their recent disappointments to record a first win in four with a comprehensive victory over bottom side York. The visitors led by Joe Dale (77) made an imposing 274-7, Aidan Burton (35no) and Leon Sachs (36) also making the most of the favorable batting conditions on offer. The only bright spot for the home side was Matthew Wright's 4-64. David Sykes took 3-26 as the hosts were bowled out for 115, only Rob Flack (30) offering any real resistance, but they are likely to face a much sterner test next week when they take on the Sheriff Hutton Bridge in a match which is likely to have a huge impact on the final destination of the championship crown.
Scarborough returned to winning ways but were made to fight all the way by Fenner. Three wickets each for Kristian Wilkinson (3-16) and Theo Smith (3-29) looked to have put the visitors in control as the home side was all out for 113, of which Ross Davy (56) contributed almost half. Skipper Neil Elvidge (53no) held things together for the visitors as they got home with three wickets to spare, Grant Van Es threatening to cause an upset eventually finishing with 5-48.
Low Catton Road was the scene for the days most exciting finish as the match between Stamford Bridge and Clifton Alliance finished in a tie. Scott Hopkinson (50) and Kevin Bradley (34) helped the visitors to 180 whilst Matt Beckett produced the first part of an outstanding all round display taking 5-61. Despite having the advantage of three extra overs the home side were only able to draw level, Beckett (43) the top scorer as his side matched their opponents efforts with five wickets down.
Heworth ended a fourteen game winless streak with victory at home Hull Zingari in a contest which saw both sides suffer dramatic batting collapses. The hosts had reached the promising position of 84-1 before loosing five wickets for 13 runs, among them Richard Walton for 55. Freddie Coughlin (25no) and Daniel Ellwood (21) staged something of a revival getting their side to 169-9 as Guy Martinson took 4-48.
Opener Daniel Gittings (32) got the visitors off to a solid start but after he was out at 68-2 the side collapsed to 99-8, Walton with 3-43 and Salman Syed 4-19. There proved to be no way back and despite 29 from Matthew Wilkinson they were all out for 122.