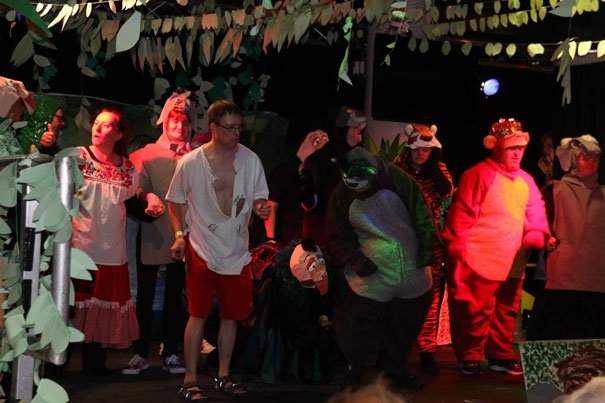 A drama group based at an East Riding day centre have performed on stage in front of hundreds of spectators as they opened a brand new music and arts festival for the region.
The drama group from Millers Day Centre, in Beverley performed their own version of The Jungle Book on the main stage at The Big Gig, a one-day festival held at the University of Hull.
The aim of the festival, which attracted over 1,500 people throughout the day, was to promote inclusivity and the arts by bringing together people with and without disabilities to enjoy some of the best music and drama that the region has to offer.
Councillor Richard Harrap, said:
"The cast and staff from Millers Day Centre spent a lot of time and effort putting the pantomime together which was really well received on the day.
"Everyone involved thoroughly enjoyed the experience and should be incredibly proud of what they have achieved; after all it is not every day that you get to open the main stage of a festival.
"I would like to thank everyone at Millers for the work they have put into making the performance a real success and the festival organisers for putting together what was a truly inclusive and successful event."
The festival was organised by Hull Red, a voluntary group which launched 10 years ago to address the difficulties that some people with learning disabilities can experience in accessing mainstream music events.
The drama group from Millers were invited to open the main stage by the festival organisers who felt they were the perfect choice to set the tone for the rest of the event.
Alex Holmes, one of seven volunteers who organised The Big Gig said: "The Millers performance was fantastic.
"It was amazing how much work had gone into all the details, and it was great to see that the service users had been involved in every aspect of the production. The set design and the costumes were amazing, and the script was really witty.
"Having Millers open the festival was really important to us. They set the tone for the whole day – it was all about inclusivity, and working together to create a space where people could have fun, laugh and dance together."