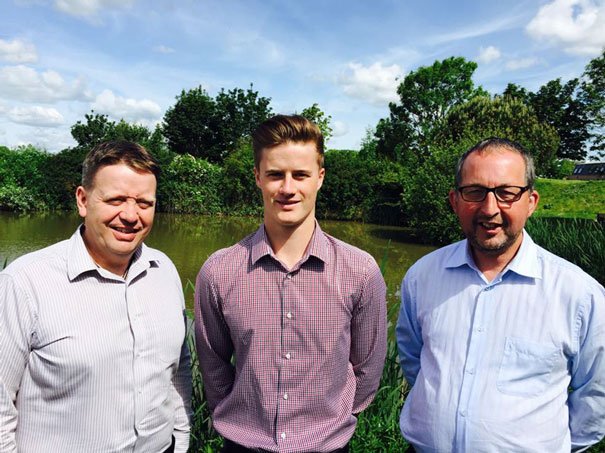 The Directors at Beverley firm of Chartered Building Surveyors, Delaney Marling Partnership Ltd are delighted to announce the new appointment of Robert Thompson, a new surveyor from Grimsby, training to become a Chartered Building Surveyor.
To start his career in the construction industry, Robert completed a BTec National Diploma in Construction and the Built Environment at college and, is undertaking a degree at Sheffield Hallam University in Building Surveying.
As part of his training with Delaney Marling Partnership, Robert is starting a two-year diary for the Royal Institution of Chartered Surveyors (RICS), as a pre-requisite of achieving chartered status.
The record demonstrates the number of hours he will have spent on the differing surveying disciplines and CPD that has been completed.
Director of Delaney Marling Partnership, Simon Delaney said:
"I am pleased to say that our business is growing and we are delighted to now be in a position to employ someone from the local Humber area. Building surveying is a specialist area, however the local economy is very good and we are connecting with some very exciting clients and advising them with on-going projects."
"As we are a small business, Robert is in a great position to get the best possible training, by learning on the job with people from all walks of life, I am sure it will be a real eye-opener for him. He is already very excited about working in this industry and has completed a number of supervised surveys for our clients."
"The RICS is a fantastic organisation. Their additional training and support is first class, however, the code of conduct states that we must have a minimum of 2 years' experience, including attending networking events, of which we as a company also help to organise for other property professionals around the Yorkshire and Humber Region as part of the local association."
Robert Thompson said;
"I am already enjoying my new role at Delaney Marling Partnership. Within the first week I had undertaken a condition survey on a fantastic old property with one of the directors."
"As a building surveyor I like that every day can be different, from carrying out standard building surveys to reinstatement valuations and project management. I have already learnt a large amount within my time here, it's amazing how practical experience can backup what has been taught in the classroom."
"I am very much looking forward to progressing and broadening my knowledge with the help of DMP and taking this information back for my final year of University."