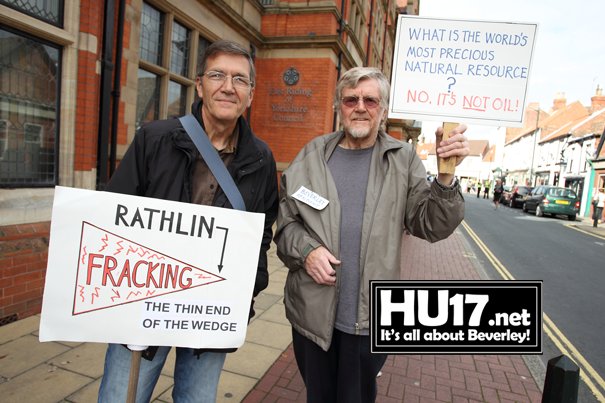 Anti-fracking protesters will again descend on Beverley as they look to make their voices heard outside the offices of East Riding of Yorkshire Council.
Protesters from around the East Riding are expected to gather outside County Hall while planners from the council meet inside to determine whether Rathlin Energy can draw a third well in the West Newton site.
Rathlin Energy maintains that they have no intentions fracking more are they fracking tensions between the protesters and the prospector tenuous at best.
In January of this year, protectors from Crawberry Hill site near Walkington were finally removed by the council amid safety concerns.
During the eviction, there was an exclusion zone which barred even the media from accessing the camp and witnessing the removal of the structures.
Activity at the site has since been very quiet since, but anti-fracking campaigners have continued to make their voices heard by staging mobile process throughout the region.
Richard Howarth from the Green Party has made it clear that he fully opposes any plans to perform fracking in the UK.
In the lead-up to the elections in May Mr. Howarth expressed his concerns that the East Riding of Yorkshire could inadvertently become a dumping ground for nuclear waste should fracking occur.
Locally as 'straw' poll conducted by the Labour Party showed an overwhelming majority of people in Beverley were against fracking.
In the dash for gas the government of made it clear that they are fully behind utilising shale gas as a former sustainable energy offering big incentives to local authorities to support applications.
Concerns, however, relate to the way in which hydraulic fracturing is used to extract the minerals from deep inside the earth with some environmentalists saying the process could potentially pollute drinking water supply.
At tomorrow's meeting a former leader of Hull City Council, Simone Butterworth will speak and oppose plans being put forward.
Commenting on the proposed plans she said;
"Rathlin claim they are keen to listen to neighbours. I am a close neighbour to the Crook Lane site and like many other residents, I want to stop this gas well."
"We have seen the damage and risks at West Newton A which was closed down when breaches of regulations were reported. We do not need a gas field here in Holderness."
Security at County Hall tomorrow in Beverley is expected to be very high both inside and outside as a planning committee meet to discuss one of the most controversial topics in our region.