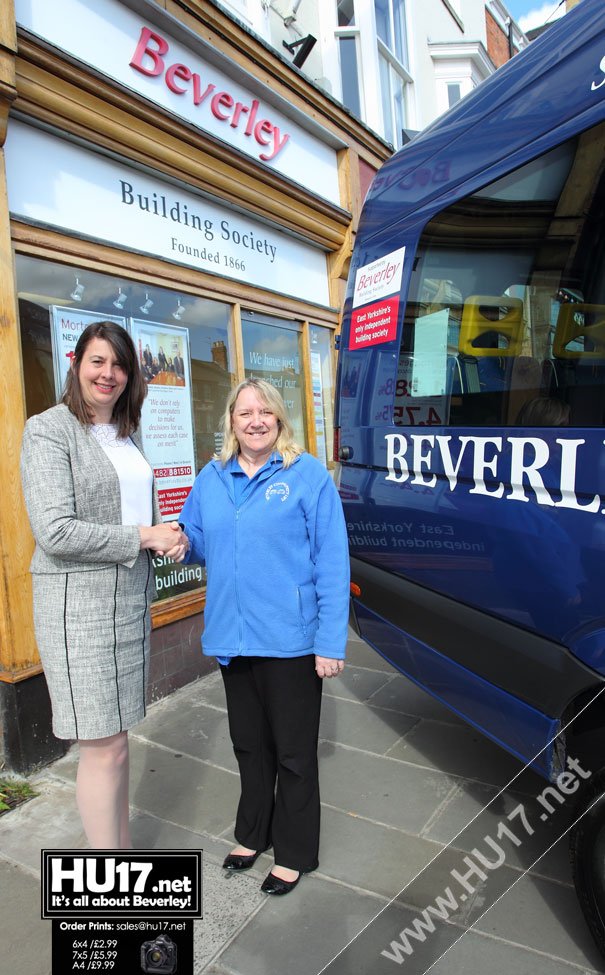 Beverley Building Society have again showed their commitment to supporting the local community.
East Yorkshire's only independent Building Society has linked up with the Beverley Community Lift in a deal that will see them provide financial support to the charity through vehicle sponsorship.
CEO, Jan Stainforth of Beverley Community Lift introduced Janet Bedford, Finance Director of Beverley Building Society to 'Cornflower' one of the buses which the Society has supported.
Expressing her gratitude, Jan explained why the support from the Beverley Building Society is more important than ever, she said;
"Due to cuts in funding streams, any financial help we can get is very much appreciated. Beverley Community Lift provides a vital, caring volunteer car and minibus service for elderly and disabled people."
Widely recognised as a vital service in the local area the Beverley Community Lift relies on volunteer drivers completing thousands of trips each year.
Jan added;
"Over 20,000 individual journeys are made each year, taking people to medical appointments, shopping, day trips and other necessary journeys."
Janet from the Beverley Building Society explained why they got involved, she said;
"Beverley Building Society is very proud of its local heritage and the part we play in the local community, and as we approach our 150th Anniversary Year, welcome the opportunity to support this long established part of local life."
By providing the service the Beverley Community Lift also gives many people the opportunity to get outside of their homes, Jan added;
"Without our transport scheme, many people would find themselves house-bound and those with physical or learning difficulties would be left without any means of independence."
"As a charity we have been established for 45 years, and are always looking for new volunteer drivers and we will provide all training required. More information of who can qualify can be found on our web site www.bclift.org.uk."
Any other local businesses also invited to show their support by sponsoring the vehicles, anyone who would like to do so should contact Jan by calling 01482 868082.