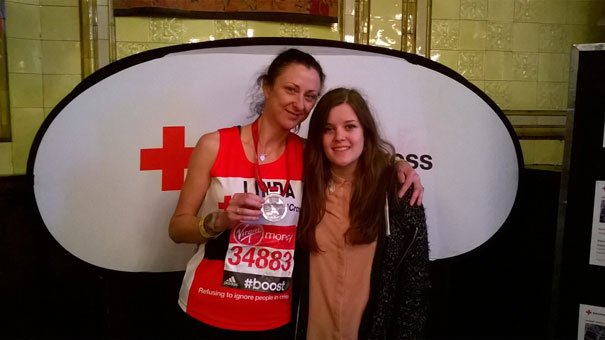 A self-confessed ex-Couch potato from Beverley says despite smashing the London Marathon she still has some unfinished business to attend to and has not ruled out running again.
40-year-old Linda Wright speaking after returning from London where she joined tens of thousands of other runners to complete the 26.2 mile course in four hours 12 minutes.
Running the team Red Cross Linda has raised a in excess of £2500 for the charity.
She said;
"I was really proud to be running for Team Red Cross and raising awareness for this amazing charity.
"Back at work today! I don't think it has hit me yet the actual event that I have just done and built up too!
"It's a really weird feeling, the only thing I can compare it is giving birth! Where your body completely is exhausted.
"Its mental is all over now! I think I will do another one! Unfinished business and all that!"
This year runners raised £200,000 for The British Red Cross by completing the London Marathon.
Community Fundraiser for the Red Cross, Max Newton, said:
"I'm so proud of Linda – she has done an amazing job training and running the marathon, and with her fundraising."
"When we initially spoke about the marathon, Linda thought the distance and sponsorship target were both too high. However, she smashed both."
"We're so grateful for the fantastic efforts of everyone who take on these challenges to raise funds to support our work."
" The sponsorship money raised will help people whose lives have been affected by crises and disasters, large and small, in the UK and overseas."
At the same time, as these fantastic volunteers were running to raise money, The British Red Cross have launched an Emergency Appeal to help the many thousands of people who need help following this weekend's earthquake in Nepal.
Anyone who is interested in following Linda's footsteps and run the Red Cross can find out how by clicking here.