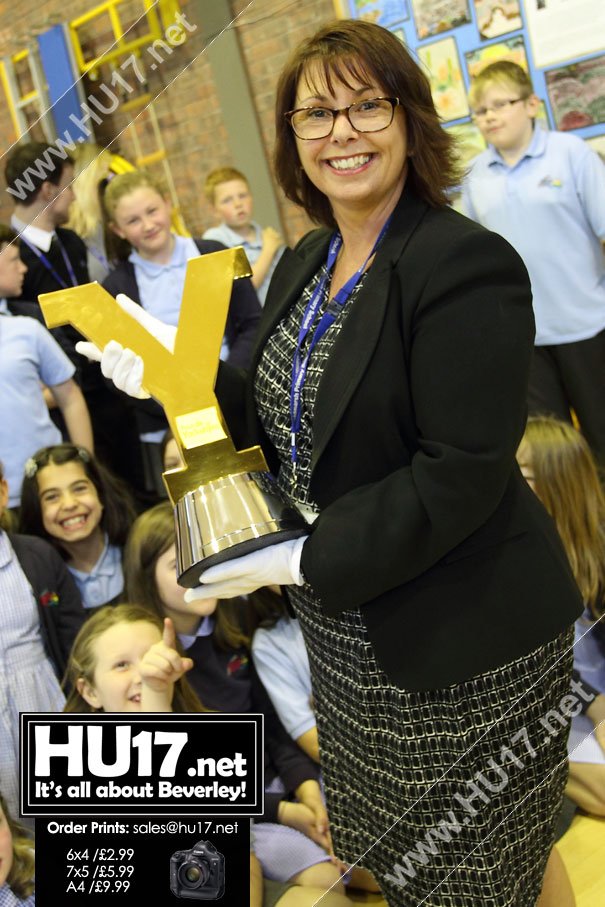 Pupils at Keldmarsh Primary School got an opportunity to get a really close look at the trophy that will be presented to the winner of the inaugural Tour de Yorkshire.
Headteacher Carol Tomkinson welcomed the trophy into the school which is currently being taken on a road trip around the East Riding to help raise the profile of the race and encourage people to come out and watch what promises to be a great sporting event.
Speaking to HU17.net Mrs. Tomkinson said;
"Bringing the trophy to the school made for a fantastic chance for the children to see the trophy up close. I know there will be other viewings but this was a unique opportunity and one they will remember."
Steve Wigley and David Butt from the East Riding of Yorkshire Council visited a number of local schools in Beverley with the trophy.
While children could get a close look at it, they were not allowed to hold the trophy due to insurance reasons.
Mrs. Tomkinson, however, could hold the trophy, when asked about how it felt she said;
"I would not say was very heavy, but it is proper weighty solid thing, not like the cups we have here in own school."
At the end of the week, there will be a special assembly where the children will be taught a little more about the race and also about the route it will be taking around Yorkshire.
In the various classroom's children of all age groups have been getting into the spirit of the race by decorating bikes that were donated to them by the local Chamber of Trade.
Commenting on the bikes and the efforts of the children Mrs. Tomkinson said;
"In the school, we have been getting ready for the Tour de Yorkshire by decorating special wooden bikes in yellow and blue. These will be collected and displayed throughout the town along the route of the race."
It seems the magic of the Tour de Yorkshire is already capturing the imagination of the young people in the town. Today they clearly enjoyed seeing the ultimate prize that will be presented to the winner of the race.
The trophy which is gold plated and was manufactured in Yorkshire will soon leave the East Riding be handed to officials in West Yorkshire.
It will then continue its journey visiting local communities and local schools across Yorkshire ahead of the start if the big race on 1 May.