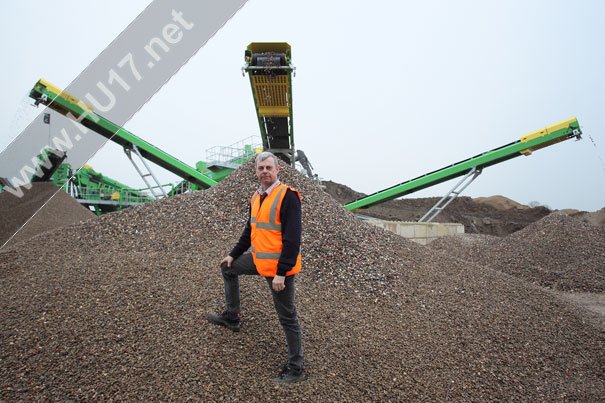 A pioneering farmer is planning to convert mountains of food waste into clean and green energy for thousands of homes in East Yorkshire.
John Bird, managing director of F D Bird and Sons of Leven, is in the vanguard of East Yorkshire recycling at his Leven site.
Here, he has already been successful in landscaping quarries which have supplied materials to the building industry, the result being the renowned Heron Lakes Lodge Park.
His firm has also been hugely successful in finding a new use for material removed from construction sites, now recycling 95 per cent of materials that used to go directly into landfill, turning it back into new materials for the construction industry.
Now he has plans to turn his recycling skills to the food industry, using a process known as Anaerobic Digestion (AD) to turn up to 50,000 tons of food waste a year, that currently goes to landfill, into biogas that could supply heat and energy to 15-20,000 homes in the East Yorkshire region.
He told HU17.net:
"We are in the process of applying for planning permission for an Anaerobic Digester at our existing quarry and recycling centre and when completed, we should be capable of supplying enough heat and power for 15-20,000 homes and industrial properties."
"Along with the ability to inject directly into the national grids, this will secure new jobs and help to develop new skills in the area."
"We will also be able to process recycled water from the existing quarry through this process, and assist in creating a natural wildlife sanctuary."
"I really want to engage with the local community over this. I am passionate about the environment, and I want to create a visitor and educational centre to share my passion for renewable energy."
AD has proved to be a huge success in other parts of the world, most notably in Sweden.
It works by breaking down unwanted and unused food waste into biogas, which is seen as a clean, carbon-neutral and ethical production of energy. Its arrival in East
Yorkshire would also show there is an alternative to the controversial 'fracking' process of natural gas extraction, with no immediate and long-term health and environmental risks attributed to it.
When this AD plant is introduced to the Leven site, it will hopefully make the location an example of what can be achieved if a passion for protecting the environment is synched with the need to continue to provide energy for an increasingly power-hungry society.
John continued: "As a farmer, I love the land, and I want to protect it for future generations.
"Once we have finished quarrying, we landscape the land we have worked on, Heron Lakes being an example of what can be achieved.
"I've already planted some 200,000 trees to enhance the appearance of the local area, in particular the Heron Lakes development , Yarrows Quarry and the farm land which we own."
"Once this plant is open, we would like to get all our machines running on the gas produced at the site.
"We would like to urge anyone who is has any concerns about what we do to do their own research and come visit us so they can see for their selves the benefits having this facility."
PICTURE: Plans show the proposed plant that will turn waste into energy