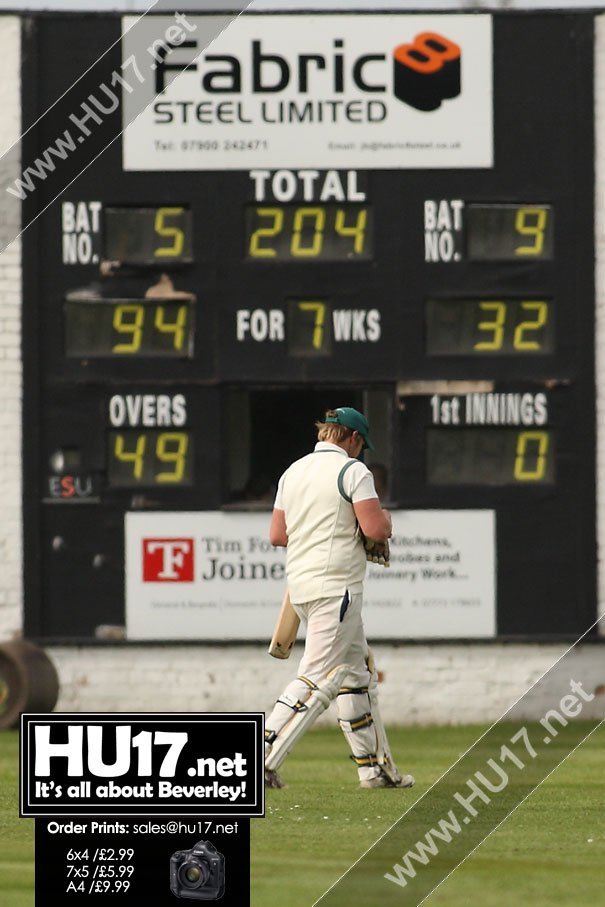 The opening day of the Hunters York and District Premier League season saw several of the favourites for a top six finish, and with it promotion into the Yorkshire Premier League North, make successful starts to the campaign.
Reigning Champions Woodhouse Grange recovered from 10-2, at home to Hull Zingari, thanks to a stand of 98 between Christopher Bilton (72) and Tom Young (49). Skipper Steve Burdett then gave the innings late impetus with 33 from only 16 balls, as his side closed on 223-7. Despite the efforts of opener Jack Storey (61) the visitors were never in a position to chase down their target, David Suddaby and Nick Hadfield both picking up four wickets as Hull Zingari were dismissed for 170.
Last year's runners-up Easingwold got the better of a draw at Beverley Town Cricket Club where Mark Haines (94) narrowly missed out on a century as the visitors made 206-9. The home side led by Jon Vodden (54no) and Ollie Grantham (43) got within 19 runs of victory whilst Stephen Piercy (3-36) took three of the seven wickets to fall.
League newcomers Scarborough provided early evidence that they will be a force to be reckoned by beating another much fancied side, Studley Royal, by 136 runs. Darren Harland made an unbeaten 112 and former Yorkshire Academy skipper Ryan Gibson made 46 on debut, as they posted 243-4. Dan Craven replied with 42 but his was a lone hand as the home side could only manage 107 in reply.
There was also a century for Joe Ashdown (107no), who shared stands of 123 with Kevin Bradley (83) and 133 with John Gilham (70no) as Clifton Alliance made the days highest total (278-3) away at Dunnington before David Friend (6-40) bowled the visitors to victory by 177 runs.
Both last season's promoted sides recorded opening day victories. Last year's division one champions Heworth made a winning start at home to York II. Despite four wickets each for Matthew Hodsdon (4-90) and Mike Mortimer (4-35) the home side posted an imposing 268-9. Oliver Sherwood top scored with 87 sharing a 99 run partnership with Salman Syed (47) who then added a further 61 with Tom Neal (39). In reply only Danny Murty (41) and Jonathan Moxon (35) managed double figures, Syed completing an excellent all-round performance with 4-25, and Richard Walton took 4-30 as the visitors lost their last four wickets for just three runs.
Acomb who finished as runners-up to Heworth began with a visit from Fenner and made a solid start to the campaign, Joe Dale (69no), Harry Booth (40) and Aidan Burton (38) all made contributions as the home side chased down 181 for victory winning by five wickets. Earlier in the day William Parker (76) and Ben Hatfield (28) both batted well but Andrew Brewster (4-55) and Mark Bell (3-37) kept the visitors in check.
Sheriff Hutton Bridge were the day's other winners beating Stamford Bridge by eight wickets. Dominic Rhodes made 80 in a total of 183-7 for the visitors, which SHB chased down easily thanks to Adam Fisher (74no) and Robert Pinder (68no).
RESULTS
Easingwold (26) drew with Beverley Town (18)
Easingwold 206 – 9 (M Haines 94, P Redshaw 33, K Thompson 3-11, J Fisher 3-10)
Beverley Town 188 – 7 (O Grantham 43, J Vodden 54*, A Acklam 26*, S Piercy 3-46)
Acomb (30) beat Fenner (6) by 5 wickets
Fenner 181 (W Parker 76, A Brewster 4-55, M Bell 3-37)
Acomb 185 – 5 (H Booth 40, J Dale 69*, A Burton 38)
Clifton Alliance (30) beat Dunnington (2) by 177 runs
Clifton Alliance 278 – 3 (J Ashdown 107*, K Bradley 83, J Gilham 70*),
Dunnington 101 (D Friend 6-40);
Heworth (30) beat York II (5) by 163 runs
Heworth 268 – 9 (O Sherwood 87, S Syed 47, T Neal 39, M Mortimer 4-35 , M Hodsdon 4-90)
York 105 (D Murty 41, J Moxon 35, S Syed 4-25, R Walton 4-30)
Sheriff Hutton Bridge (30) beat Stamford Bridge (5) by 8 wickets
Stamford Bridge 183 – 7 (D Rhodes 80 P Milner 32*),
Sheriff Hutton Bridge 184 – 2 (A Fisher 74* D Bradshaw 27 R Pinder 68*);
Scarborough (30) beat Studley Royal (3) by 136 runs
Scarborough 243 – 4 (D Harland 112*, M Tennant 33, A Carrie 30, R Gibson 46),
Studley Royal 107 (D Craven 42*, A Hunter 3-15)
Woodhouse Grange (30) beat Hull Zingari (6) by 66 runs
Woodhouse Grange 236 – 7 (C.Bilton 72, T.Young 49, S.Burdett 33, C.Suddaby 29*, A.Hamson 3-57.)
Hull Zingari 170 (J.Storey 61. D.Suddaby 4-45, N.Hadfield 4-38.)