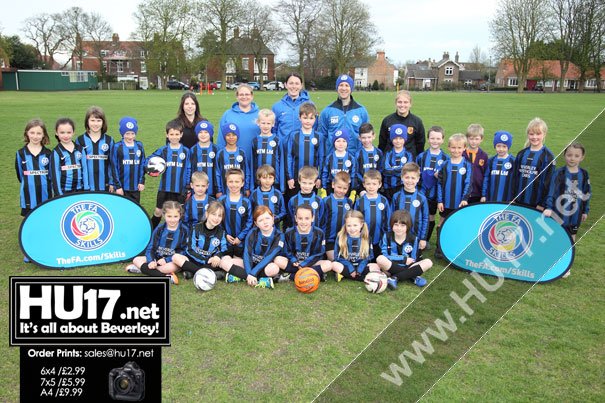 Beverley Whitestar volunteers were acknowledged by football coach Sam Lee from the East Riding County FA this week.
Sam who is an FA Skills Coach went to a training session at Beverley Grammar School to congratulate four of the club's coaches who all achieved the level I coaching badge.
Working with local football a grassroots level, Sam is helped develop managers of the boys teams and ladies who work with girls in Beverley Whitestar's Academy.
Robin Makey, Donna Wilkes, Laura McCoid and David Freeman, who was unable to attend, were also joined by Keira Backhouse, who is still at school who observes sessions held by Sam to develop her coaching.
Commenting on their achievements Sam said;
"Each coach has been very receptive to new ideas and they are passionate and committed to provide quality coaching to their players. As volunteers, coaches and role models they are doing a fantastic job."
The Level 1 coaching badge is the starting point for the vast majority of coaches and as such is by far the most popular course in the UK with literally hundreds of courses offered each year through local county FA's.
Broken down into three sections, FA Emergency Aid, Safeguarding Children in Football and the coaching itself.
The first two sections are concerned with providing a safe, productive and enjoyable coaching and playing environment with very basic first aid included for obvious reasons.
Within the coaching section delegates learn theory, practical and assessment spending time in the classroom as well as on the training pitch.
Club administration also plays a key part as do the laws of the game, relationships with parents, training drills and an introduction to the FA's Long Term Player Development Model.
New coaches gain a lots of useful techniques and information which they can then use to help build their clubs.
FA Skills Coach Sam Lee also runs an after school FA Skill Centre for 5-11 year old boys and girls at Longcroft School every Monday evening to further develop players skills.
To book a place contact Sam Lee 07931126725.