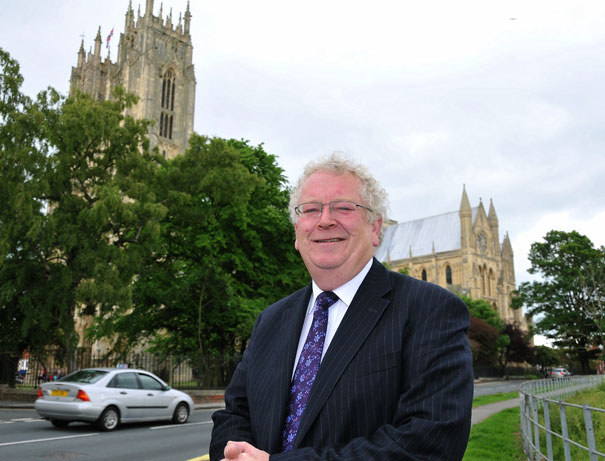 Graham Stuart MP and Stephen Parnaby have both welcomed news that the East Riding is to benefit from £6m over a three year period to help improve street lighting in the region.
Graham Stuart MP welcomed the news, in a statement released the MP for Beverley and Holderness said;
"I am delighted the Department for Transport has given this money to East Riding to replace street lights and I congratulate the Council for putting forward a strong case for the funding."
"Changing the street lamps to LEDs will mean substantial savings on the Council's energy bill which means finite cash can be spent on other things."
East Riding of Yorkshire Council's leader and fellow Conservative Stephen Parnaby OBE also expressed his delight, he said:
"The council is delighted to secure this additional investment, which will help the authority complete its six-year programme of updating street lighting across the East Riding."
"This scheme provides both environmental and financial benefits, as the new lighting will save 15.6 million units of electricity and reduce carbon emissions by 8,400 tonnes as well as potential cost savings of £1.6 million over the scheme period."
In total, 28 local authorities across the country were awarded funding totalling £275 million but the East Riding of Yorkshire Council was one of only two authorities in the whole of Yorkshire to table a successful bid.
Mr. Parnaby added;
"To be one of only two authorities in Yorkshire and one of 28 across the country to secure financial backing from the Government demonstrates this council's ability to prepare good quality bids and deliver infrastructure projects on time and on budget and that have a real and tangible benefit to the lives of our residents."
Councillor Mike Bryan says that the latest round of capital to be invested in the region is further the Conservatives are the best option, saying;
"I'm pleased to see this Government has again recognised the value of investing money for infrastructure projects in East Riding."
"At the end of last year we were allocated £27 million for the Holderness Flood Alleviation Scheme, which will include new sea defences at Paull."
"We've also received over £5 million to upgrade broadband infrastructure and another £5 million has been allocated for phase two as well as £16.3 million for the Beverley Integrated Transport Plan, which includes the new Southern Relief Road."
"There has also been more money for schools, including Withernsea High School, Longcroft School, St Nicholas Primary and Withernsea Primary School. This new announcement in the final week of this Conservative led Government is further good news for East Riding."
However it's not all good news and incentives like this do come at a price for the residents.
Longcroft's lower school site is thought to have been earmarked by the council as a potential location for the development of new houses.
While Councillor Bryan may feel the that a Conservative government have been good for the region, locally in Beverley over the past four years residents have seen some vital services taken out of the heart of the community and replaced with bricks and mortar.