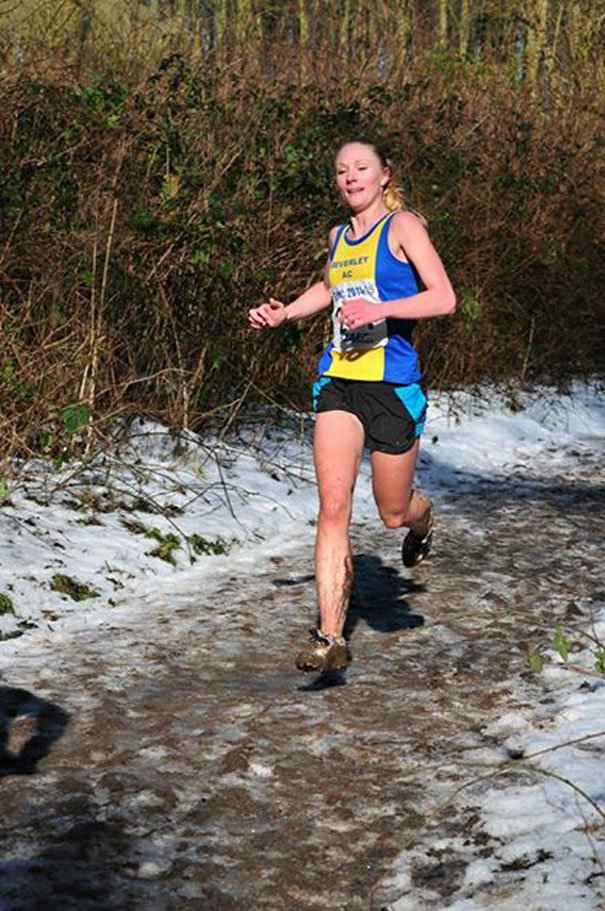 A combination of ice and mud greeted runners in the fifth and penultimate event of the 2014/2015 East Yorkshire Cross Country League, held at Welton.
The five and a half mile race, organised by Goole Viking Striders and Selby Striders, begins with a climb up Welton Dale which was particularly challenging in the half-frozen conditions. It heads up to Wauldby Scroggs, which was treacherously icy, and ends with a slippery descent back down the dale.
First Beverley runner back in was Lewis Holloway, who finished in 4th place in 34:48. Beverley's Carla Stansfield was less than a minute behind, coming in at 35:32 to win the women's race and take 8th place overall in the event.
Holloway was joined in the men's team of 6 by Darren Rodmell (taking 15th place in 36:07), Dave Millson (38:30), Dave Morrison (38:37); Steve Evins (39:48) and Andy Johnson (40:04). The team finished in sixth place overall. The women's team of three came fourth, and comprised Stansfield, along with Elizabeth Evans (50:04) and Carrie Smith (51:39)
Beverley fielded a good turnout of 25 runners in the race, which included 152 participants overall. The men's race, in a repeat of last year's, was won by Stuart Carmichael (City of Hull AC) in 33:15. City of Hull fielded both first men's and first women's teams. Although Beverley's teams were not as strong at Welton as they had been at other races in the series, the men's team remains in second place overall in the league and look set to retain that position into the final race of the season. This will be held on Sunday 1st March on the coast at Sewerby. This last race will determine the final team and individual rankings after a tough series of six races which began in October.
Beverley AC finishing times: Lewis Holloway 34:48; Carla Stansfield 35:32; Darren Rodmell 36:07; Dave Millson 38:30; Dave Morrison 38:57; Steve Evins 39:48; Andy Johnson 40:04; Paul Clark 41:27; Peter Watkinson 43:52; Roy Steele 43:56; Andy Tate 44:52; Steve Parkinson 45:22; Alan Flint 46:43; Mike Evans 48:28; Elizabeth Evans 50:04; Carrie Smith 51:39; Neil Plummer 52:21; Steve Willietts 54:50; Alison Stabler 55:22; Christine Hemingway 57:40; Jacqui Dickinson 62:04; Christine Whitehead 62:16; Pam Atkins 64:21; John Boardley 65:04; Sarah Tock 66:26