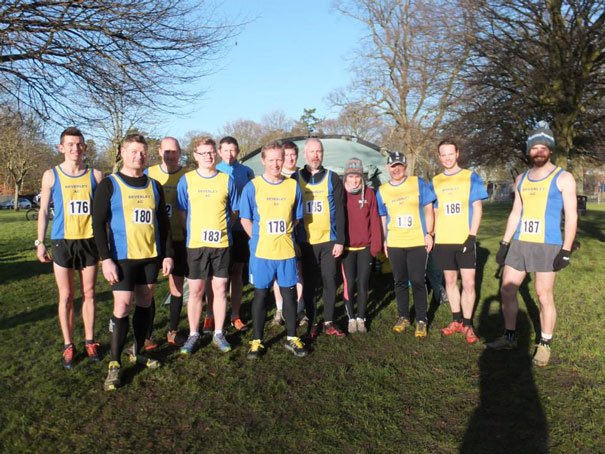 Beverley AC sent a team of 10 men and 1 woman plus a large number of juniors, joined the field at the Humberside County Championships at Weelsby Woods, Grimsby, last Sunday.
Conditions were fairly heavy underfoot in places but the crisp, sunny weather provided good general conditions for running and the park and forested areas of the venue a pleasant backdrop to the event.
10 Beverley men joined a field of 83 in the Men's Senior 9300m. Stuart Little unfortunately could not count to the Beverley team as his 'First Claim' club is 'out of county' in Sheffield R.C. which was unfortunate as he finished in a very creditable 14th place in 32:46.
First Beverley runner home in 3rd place overall, was Timmy Davis in 30:07. He was pipped to 1st in a tightly fought race, by Gregan Clarkson of Kingston upon Hull AC in 29:38 and Mike Hargreaves of East Hull Harriers in 30:06. Lee Phipps did well in this strong field, gaining 17th place in 33:12, as did Phillip Savage in 34:54.
One Beverley Runner ran in the Women's Senior 7200m, though again she could not count as Beverley, as her first claim club is Bristol & West AC; relatively new to the club, Ellen Harrison competed strongly throughout, coming 4th overall in 28:47, the race being won by Rachel Robinson of Aldershot Farnham & District AC in 27:13.
There were some impressive individual and team performances by Beverley's Juniors. Curtis Arnott came 6th in the Men's Juniors 7200 in 31:00. The Under 15's Boys 4900m Team Event was won by Beverley with Taylor Arnott 20:07, Oliver Douglas 20:38 and Jonathon Dennison 20:36, finishing 4th, 5th and 6th respectively. In the under 13's Boys 3300m, Aidan Glover came in 8th in 14:51 and Guy Harbidge was 13th in 17:38.
Jack Marsay managed 10:10 in the Under 11 Boy's 2000m. More Beverley prizes came in the Under 17 Women's 4900m, with the team prize going to Eleanor Boyd 24:29, Kelly Dawson 25:30 and Dayna Arnott 30:00.
The biggest success of the day went to Becky Briggs, who won the Under 15 girls 4100m in 16:39 and with Laura Duncan 18:20 and Morgan Dennis 19:12, the team prize also went to Beverley. Kezia Barnard and Jordan Peacock also competed well.
Isabelle Horrocks came 5th in the Under 13's girls 3300m in 15:53 with Emily Peacock in 20:50. Finally, in the under 11 Girls 2000m gained 4th in 9:54 and Jessica Tew, 8th in 8:28.
Beverley A.C Men's Senior Times: Timmy Davis 30:07, Stuart Little (Sheffield RC) 32:46, Lee Phipps 33:12, Phillip Savage 34:54, Andy Johnson 38:24, Jim Harbidge 40:31, Edward Lisney 41:19, Paul Furness 41:25, James Durham 43:30, Steve Ogden 48:28, Andy Grainger 50:27.
Women's Senior: Ellen Harrison (Bristol & West AC) 28:47.
Report by Andrew Grainger