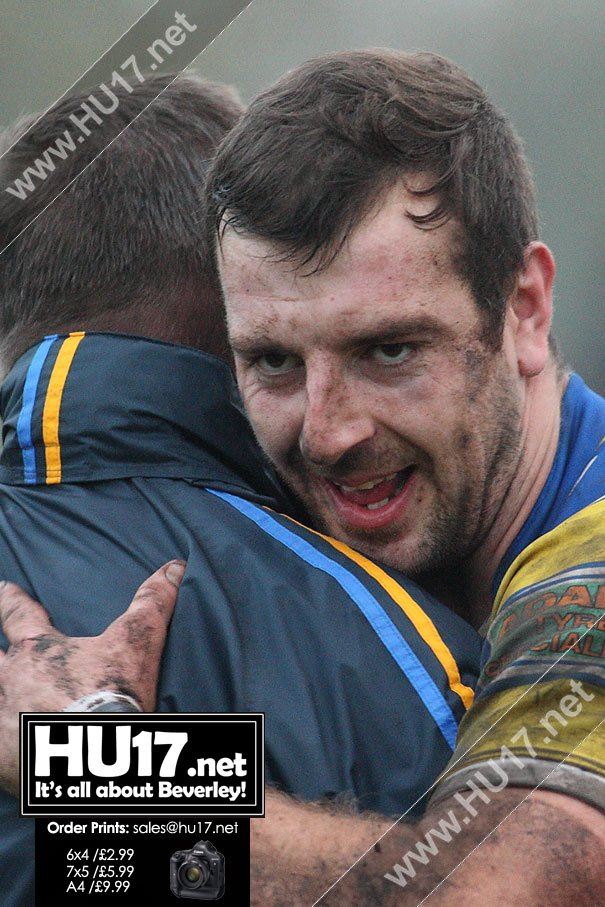 This was arguably the finest game that Beverley has been involved in for many seasons and Blue and gGolds came out on top as they progressed to the Tom Beautiman Cup Final.
Both sides went hammer and tongs at each other for the full eighty minutes with some ferocious defence from both sides.
Such was the quality of the defending that it took until the 25th minute for the first score which was by the visitors. An intricate two-man move from the centre of the field saw them score a converted try in the right-hand corner.
The home side took only five minutes to reply. They were aided by a penalty which gave them the opportunity to pressurise the visitors line. Some good handling with Louis Hubbard heavily influential saw Adam Robson force his way over in the corner. Ryan Watkin in his first game back from injury stroked over the touchline conversion.
The game then followed the same attritional pattern with the scores remaining 6-6 at the interval. Early in the second half Beverley forged ahead with a penalty goal from Jack Howdle. They then followed a long period of scoreless but gripping rugby.
In the forwards man of the match, Rich Etherington was a tower of strength with his fierce running and was ably assisted by Lee Stevens, Louis Hubbard, Howdle and Will Mail.Scrum-half Lewis Poskitt had his finest game in Beverley colours constantly gaining territorial advantage with his kicking game. Indeed, there was one monster touchfinder.
Also Guy Adams enjoyed two very useful spells off the bench putting his vast experience to good use. The now regular centre partnership of Adam Robson and Ben Calvert looked a class act, and Steve Connolly was back to his usual best in the full back position.
It took until the 70th minute for the next score with Jack Howdle obliging with a penalty goal. The visitors simply refused to lie down. They were aided by a penalty that saw them progress into the hosts, 20 meter zone and a quality handling movement saw them score an unconverted try wide out to level things up at 10-10. With extra time looming, Howdle stroked his penalty to give Beverley the lead, but it was far from over.
Beverley had to defend for their lives in what appeared to be eight minutes of stoppage time. The whistle finally blew for a magnificent and deserved victory for Beverley.
Beverley will face Hull Dockers 'A' at Haworth Park in the final, the date of which has yet to be confirmed. The games get no easier for the blue and golds as they face Myton Academy at home this Saturday. A match that pitches 1st against 3rd. Coach Pat Howdle has emphasised that there is no time for cup hangovers as the league is the club's main priority. Kick off is 2pm at the Beverley Leisure centre.
Final Score : Beverley ARLC 12 Three Tuns 10 | Reported by Nick Robinson