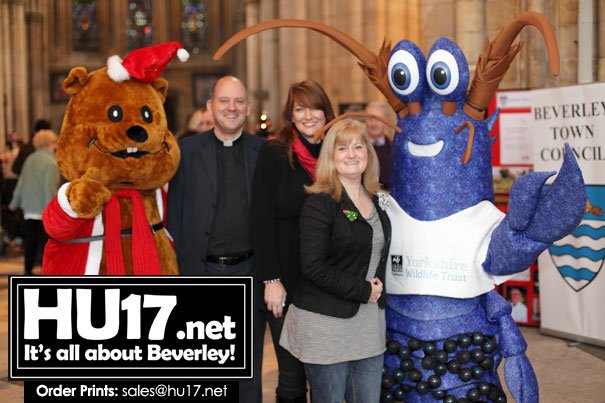 The Beverley Christmas Festival of Food & Drink to be held on Saturday 29th November from 10am to 3.30pm is all set to be the biggest and best yet.
Held inside the glorious gothic setting of Beverley Minster, this winter festival attracts the finest local food and drink producers from across East Yorkshire. The event, now in its third year, is free to attend, and features over 70 stallholders offering a great variety of local produce to residents and visitors to the town.
From beers and liqueurs, to hand raised pork pies and Christmas puddings, there will be a whole host of produce on offer, all made with locally sourced ingredients and created by local producers. Entertainment will be provided by York Waits playing medieval-style music on traditional instruments and the Beverley Ukulele Group with bring a festive feel with Christmas songs and carols.
There will be a full day of half-hourly festival demonstrations, showing a variety of skills, including: how to make stollen with Side Oven Bakery; how to create sweet treats with Shepcote Ltd, and children can get involved with decorating Christmas cupcakes and cookies with Ginger Kittens and Lakeland.
There's also a festive floral theme, with Broken Blossom, and Kevin Hara showing how to make Christmas arrangements and centrepieces. Speaking about the event, Vicar of Beverley Minster, Reverend Jeremy Fletcher said:
"This will be the biggest indoor food festival that the Minster has seen. We work in partnership with Beverley Town Council to hold this prestigious event, which is going from strength to strength every year."
"It helps us to showcase the Minster in all its glory and bring in many residents and visitors to enjoy the festival day and see this magnificent building for themselves. It's an important event which helps to raise funds for the future of the Minster."
Mayor of Beverley Councillor Paul McGrath said:
"Beverley Town Council welcomes residents and visitors to this festive and seasonal local produce event."
"It promotes the best of Beverley and showcases the high quality of local food and drink on offer in our area."
"We would encourage people of all ages to attend, as there will be lots to see and do, as well as stocking up on store cupboard items and getting gifts for Christmas."