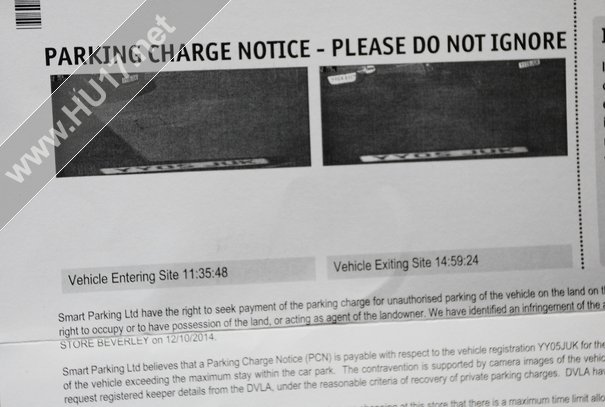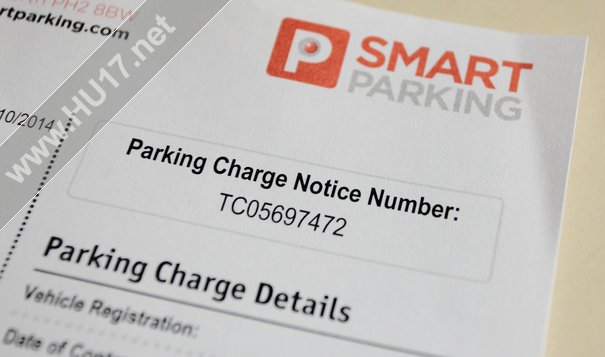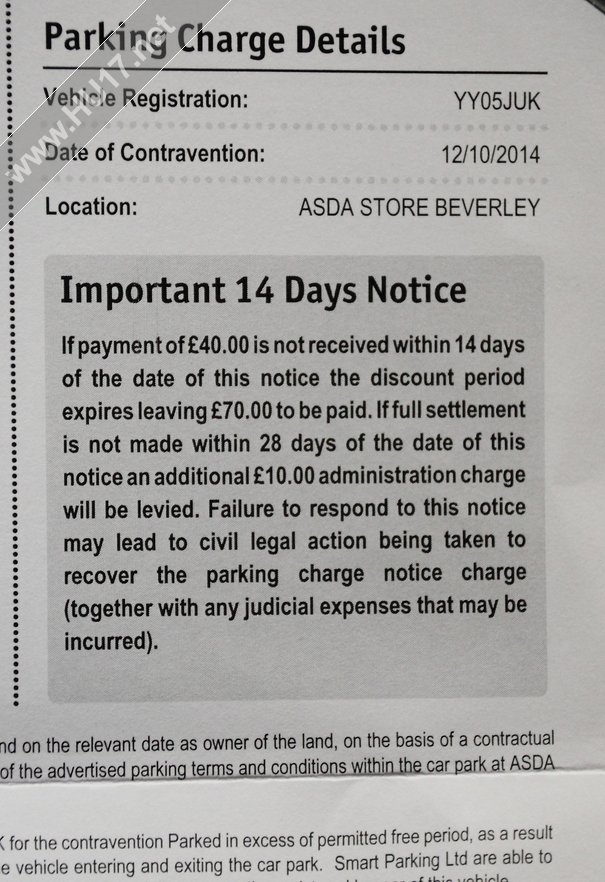 This week I received a parking fine for £40 from a company called Smart Park for an offence of 'over staying 'my welcome in the Asda Car Park in Beverley.
From a company in Perth, the letter shows two photos of my car, one entering the car park at 11.35 and another leaving the car park at 14.59.
Based on what the company charged with monitoring the car park thinks I was parked there for 3 hours and 24 minutes, when actually I was not.
Let me explain, the first image shows my car entering Asda store on Norwood in the morning but not leaving. On my second visit, the camera fails to take a photo of my car entering but does get me when I am leaving.
Despite making two visits to the store the Smart Parking system has clocked all this as a single visit and therefore, issuing me with a ticket and of course a fine, pretty smart if you are the one collecting the fines but not if you are on the receiving end.
From what I can gather the systems are not always picking up cars as they leave, this can be caused when number plates are hidden caused by traffic so when it sees you leaving for the second time puts two and two together to make five.
In order to get this ticket cancelled I called Smart Parking though was diverted to answer phone who wanted me to put my appeal in writing or to log in on their web site. I knew what the problem was myself it was as clear as the nose on my face, I just wanted to tell them.
Frustrated I called Asda's head office who were very understanding and passed me back to the store in Beverley. On contacting the store in Beverley, they got the problem sorted and said they were aware of this issue and were looking to address it.
My experience got me thinking, and I think everyone in Beverley needs to be aware of this. I am sure I am not the only person who uses Asda and often will visit more than once a day. The type of shop it is geared up to quick shopping, plus there's the cash machine, the nearest one to my home.
You also have the people who use the car park to pick up and drop off their children at the nearby school. People come in for lunch, then pop in for a shop later, or like me using the cash machine, every time we do this as things stand we are running the risk of being fined.
With that in mind, I suspect many other shoppers using the car park may have received these letters, and until it is fixed many more are likely to be landing on doormats throughout Beverley. If you have got one of these letters check it, check the photos and the times very carefully it could save you some money.
From now on, I will be holding onto every receipt I get from Asda in case this happens again and can only urge others to do the same, or you could find the cost of buying a pint of milk and drawing cash out could leave you £40 lighter.
Smart Parking, sorry you are not so smart!