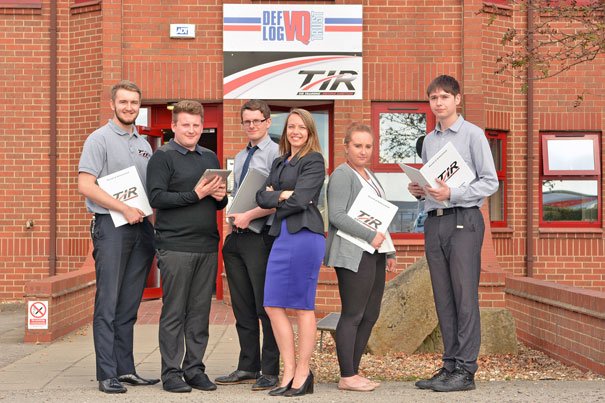 A Beverley company is practising what it preaches by taking on its own team of apprentices.
TIR Training helps organisations recruit staff and train employees through the Government's Apprenticeship programme.
After helping other companies grow their own talent, it has now recruited six of its own apprentices, including a brother and sister, to fill new posts across the business.
Julia Barcoe, Director of People and Resources at TIR, said:
"If we are encouraging other employers to take on apprentices then we need to lead by example and take on our own.
"As a training provider, we want to make a difference to people's lives. What better way to do that than to give people employability and life skills which enable them to look forward to a brighter future?"
She added:
"It's amazing just how much their confidence and communication skills have grown since they joined the company. They have quickly become valuable members of the team and have integrated well with their colleagues.
"It's the softer skills they learn from being in a work environment that will enable them to go on and do well in any organisation. We are teaching them the work ethic as well as giving them a qualification they will have for the rest of their lives."
The apprentices learn on the job as they work towards nationally-recognised qualifications that will enhance their long-term career prospects.
One of the apprentices is working in the Chief Executive's office supporting the Head Office Administrator. TIR has also created Apprenticeships in its HR, IT, Sales and Employer Engagement teams.
Julia added:
"They are all very enthusiastic and want to get on. As a result, they are very engaged in helping to resolve customers' issues internally and externally and going above and beyond what is expected."
Debbie Witherington, 18, from Beverley, joined the HR department after completing a diploma in health and social care.
Debbie said:
"I wanted to try something different and I thought this would be interesting. With the Apprenticeship route, you get the experience of working but you are learning at the same time, which helps in the long term."
Debbie's 20 year-old brother is helping unemployed people improve their job prospects as part of the company's employability skills team.
Debbie said:
"James got his Apprenticeship through the Job Centre a couple of months before I joined the company.
"He knew I wanted to work rather than go to college so when the Apprenticeship came up in the HR department he encouraged me to apply. Now he's always telling me I wouldn't have this job if it wasn't for him."
The other apprentices are Harvey Frank, 20, from Bridlington; Joseph Dewsbury, 18, from Beverley; Sam Farrow, 24, from Barrow upon Humber, and Katya Popava, 22, from Beverley.
Sam, who was unemployed for two years before being taken on as an ICT apprentice, said: "I've always been good with computers and wanted a career in IT. However, I lacked work experience so I thought an Apprenticeship would be a good way of getting on."
He added:
"This has been a real eye opener and has made me realise that work has to be taken seriously. I've learned so much and become a lot more confident working with computers. Everybody here is great and I'm hoping to be a Level 3 ICT Technician once I've completed my Level 2."
TIR Training is based in Beverley, East Yorkshire, and offers a range of Apprenticeships in Customer Service, Business and Administration, Driving Goods Vehicles, Warehouse and Storage, Traffic Office and Logistics Operations.
The company is owned by the Deflog VQ Trust, which delivers Apprenticeships to the Armed Forces, including the Royal Logistic Corps, Royal Engineers, Royal Air Force and the Royal Marines.