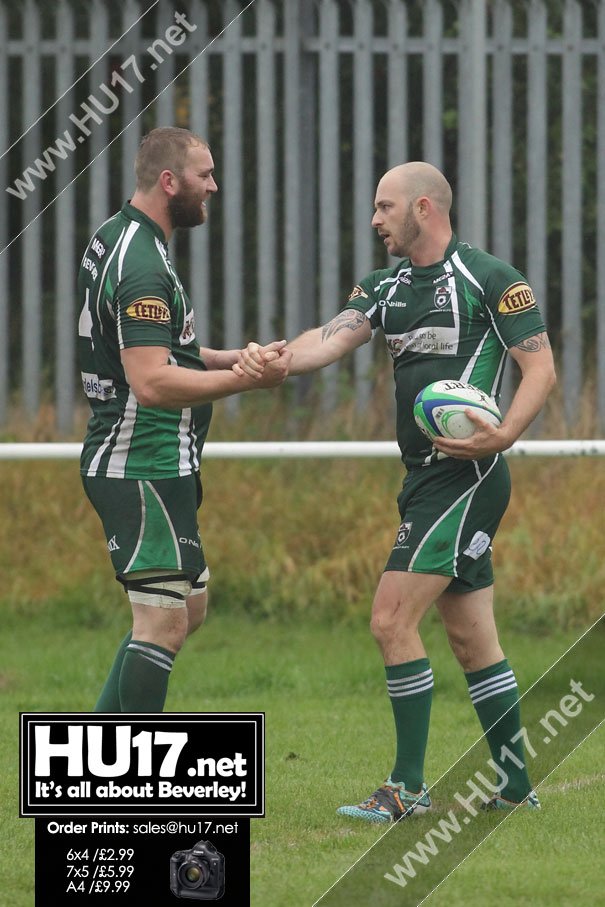 Not exactly a classic but a good win for Beverley RUFC. The match throughout was hampered by damp conditions and a persistent drizzle which added to its scrappiness.
Nevertheless it was an enjoyable game even if it was without much finesse – more Mrs Brown's Boys than Swan Lake. None the less both sides gave it everything and the afternoon never lacked for endeavour regardless of the quality of the rugby.
Once again Beverley were forced to take the field with a sprinkling of new faces as a result of further injuries and unavailability. Yet once they had settled down this was a good Beverley performance. Calum Cone had a good debut at scrum half and Jamie Gill in the absence of Phil Duboulay kicked well at fly half. Ian Williamson and Ben Revell-Jones in the backs have slotted in well and Ben Watson playing alongside Matty Adams in the second row had another promising day.
Burnage got off to a rousing start and only a blistering covering sprint by Revell-Jones prevented their taking the lead with a try in the first minute. A long relieving kick by Gill eventually got Beverley out of their 22 and play gradually began to even out. After a quarter of an hour Burnage took the lead with a penalty from James Hodder. It came from some all too familiar Beverley rugby – a lineout lost on their own throw promptly followed by a conceded penalty. Beverley's lineout work and throwing-in was once again a complete shambles all afternoon and until they get this sorted out they will probably find it hard to make much progress in the league.
Beverley might have drawn level almost immediately but Gill's penalty kick came back off the post. However, Beverley were steadily gaining in momentum and on half an hour Gill had better luck with another penalty attempt from 35 metres. Five minutes before the break a well deserved, if somewhat fortuitous, try brought them the lead. Beverley attacked down the left and when Burnage attempted a clearance kick ten metres out the ball rebounded off Beverley wing Alex Smith who won the race to touch down for the game's opening try.
8-3 up at halftime Beverley were by now on top and looking the more likely winners. Burnage had a big powerful pack but the Beverley forwards were working better as a unit and the impressive trio of David Worrall, Lewis DeSilva and Dave Brant gave them the edge in the back row. Beverley's front row of Joe Fell, Kris Renwick and Alex Ogilvie were also putting themselves about to good effect in the loose.
A second Gill penalty took Beverley two scores clear at 11-3 but they were never in a position to relax. Burnage centre Stuart Oldham with a lovely diagonal run from a free kick went over for a converted try to get the visitors back to within a point at 11-10. The game was becoming increasingly rumbustuous although not particularly bad tempered and it was no surprise when yellow cards began to appear. Beverley centre Williamson was sent to the sin bin for an illegal tackle and two more followed for Burnage.
With a spell of sustained pressure the Beverley pack ground their way upfield to within five metres of the line and when Burnage conceded a penalty Worrall burst over from the resulting scrum for a second Beverley try. Gill's conversion again took Beverley two scores clear at 18-10. Yet still Beverley could not afford to relax. Five minutes from time an attack down their right went horribly wrong and Burnage wing Hodder raced away down the touchline for another Burnage try.
18-15 and it was all a bit edgy for Beverley as Burnage threw everything into saving the game. But Beverley had the greater composure and their forwards safely saw out the final minutes. The issue was conclusively settled with the last action of the match when Burnage were caught offside and Gill comfortably slotted his third penalty.
Final Score : Beverley RUFC 21   Burnage RUFC 15 | Reported by John Nursey