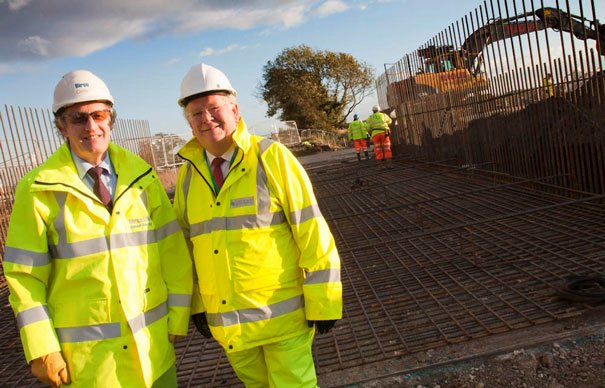 East Riding of Yorkshire Council is pleased to report that works forming part of the Beverley Integrated Transport Plan are continuing to progress well during the summer period, with the alignment of the Beverley Southern Relief Road now clearly visible. Motorists will see a major change on their route from Wednesday (30 July).
At Figham, the new roundabout on Minster Way, which has been built adjacent to the A1174 Hull – Beverley road, has been surfaced, and traffic between Hull and Beverley will be diverted onto the new roundabout from Wednesday, which will allow drainage works to be completed along the old road. The footpath/cycleway is being constructed and installation of street lighting is continuing.
Other recent and ongoing works include:
• Long Lane, which was temporarily closed to allow a new underpass to be constructed, has been re-opened.
• Following the temporary closure of a section of Lincoln Way between Morrison's roundabout and Shepherd Lane, excavation of the existing Lincoln Way has been completed, and stoning to prepare for the new carriageway links and roundabout is ongoing.
• Along the relief road, drainage, kerbing and carriageway surfacing works have been taking place on the main carriageway, and construction of the adjacent footpath/cycleway is progressing. Following construction of the reinforced earth abutments, the filling of the final earthworks adjacent to the railway bridge is now taking place and final earthworks trimming is taking place in advance of topsoiling.
• At Grovehill roundabout, statutory service providers' underground apparatus has been diverted, and drainage works, kerbing, and carriageway construction are continuing. The layout of the new junction is now starting to take shape.
• In addition at Swinemoor roundabout, statutory service providers' diversions are nearing completion, in advance of the installation of culverts and carriageway construction.
During the coming months, work will continue in all these areas, with carriageway construction, kerbing, further drainage works and road surfacing taking place. This will be followed by the erection of signs, further verge works, the erection of acoustic barriers, installation of vehicle restraint barriers at various locations and landscaping works.
Councillor Stephen Parnaby OBE, leader of East Riding of Yorkshire Council, said :
" I am delighted that work on this vitally important project is progressing well, and that key milestones, such as the new roundabout, are being reached."
"We will continue to keep residents informed of progress throughout construction, as we and our contractors – Balfour Beatty – continue to work on this essential new artery for Beverley."