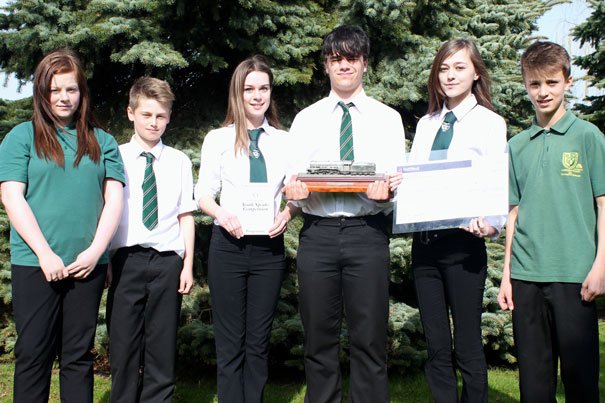 Students at Longcroft School are celebrating after winning the coveted Yeadon Trophy, as part of the 18th annual 'Youth Speaks' competition organised by the local Rotary Clubs.
Rotarian, Peter Bonavia, from the Holderness Club, explained the history and purpose of the competition: "The competition arose out of the 'Better English' campaign fronted by newsreader Trevor McDonald twenty years ago. Competitions sprung up in various Rotary Districts, which gave young people a unique platform to express their views and present their arguments on a given subject. We held our first event in 1997 and over the years we have seen many young people give articulate, persuasive and dynamic speeches on a wide variety of topics. We are delighted to award the Yeadon Trophy in 2014 to the senior Longcroft Team, for their insightful and mature presentation."
Tackling the controversial issue of drugs law reform, the winning team of Year 11 students Harvey Rann, Joanna Cook and Maddie Rann gave a lively, engaging and considered presentation.
Speaking of their success against stiff competition, Harvey said: "When we won, it was a huge shock – a massive surprise. The teams who came in second and third were excellent and so it was great to be declared the winners."
A Year 8 Intermediate Team also took part, with Nina Pybus, Tom Oxley and Tim Collingwood being applauded for a set of passionate speeches about parents taking students on holiday during term time.
Longcroft teacher Andy Coupe who supported the students in the lead up to the competition said:
"I was very proud of all six – it takes a lot of courage to stand up in front of a room full of adults and make speeches of this kind. All the practice and preparation work paid off and the audience and judges were clearly impressed by their persuasive arguments and mature attitudes."
"To bring home the Yeadon Trophy again is a great success and on behalf of the school I'd like to congratulate our Year 11 winners and also the Year 8 team."
Peter Bonavia added:
"In an age where young people are often accused of lacking basic communication skills and relying on social media and text messages rather than real debate and conversation, all the students from the various schools who took part in this competition proved their detractors to be wrong."
"We look forward to hearing more presentations next year, but for now we send our congratulations to the winners from Longcroft School."
The competition itself included nine other teams, with Hull Collegiate and Hymers College coming second and third to Longcroft's first place achievement. The team were also awarded £500 for the school, along with the Yeadon Trophy.