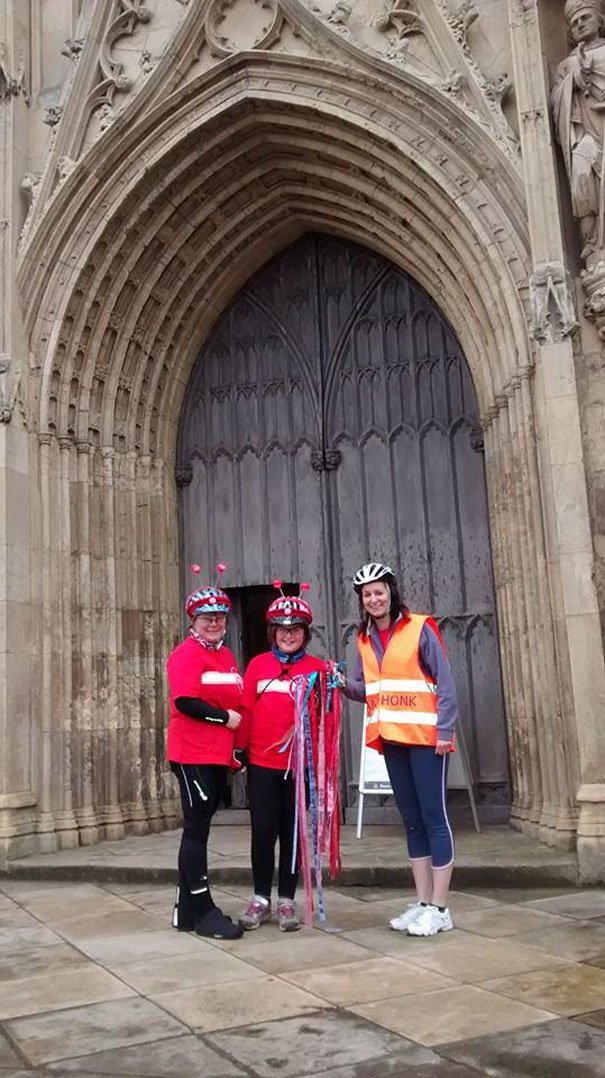 Bloggers from East Yorkshire played their part in raising over £20,000 for Sport Relief as a regional part of a huge UK-wide end-to-end baton relay.
On 2nd March,Team Honk Hull received the baton from a team from Sheffield, and took it via Beverley Minster to the Humber Bridge, where there was roller derby courtesy of Hulls Angels Roller Dames.
A welcome reception was held at the KC Stadium, which was attended by the Lord Mayor of Hull Cllr Nadine Fudge, and mascots representing Hull City, Hull KR, Hull Stingrays, and local animal charity Petrespect.org.
On the 3rd March, the baton made its way up Hessle Road via a pram push led by blogger Tami Anderson of Holderness accompanied by Jess from Pet Respect, and then to North Ferriby United courtesy of local cyclist Flora Marriot of Sunday Girls Road Club. Then it was cycled 30 miles along the Trans Pennine Trail to Selby by blogger Joanne Brady of Beverley and Stuart Woodmansey of Hull Cycle Couriers.
On the 4th March, the baton was given to ladies cycling club Frillies on Wheels at Selby who did some activities at a local school before taking it to its final destination at Bardsey near Leeds to be handed over to Team Honk Bradford.
Joanne Brady of Kids Days Out Reviews said: "We had a fantastic, tiring time with only a couple of hiccups. I am so pleased with the amount of people that turned out to help our very small team get the baton to its destination."
She added "We were really proud to have had the baton in Hull and East Yorkshire.This was a chance to showcase Hull, and the community came together to make this happen. We did the entire leg non-motorised and have raised some money for a great cause. We'd like to thank everyone and anyone who helped us on our quest. "
Team Honk Hull are still collecting sponsorship for all their team which will be added to the £20,000 already raised nationally. The baton is due in John O'Groats at the end of March, by which time it will have travelled 3000 miles courtesy of 38 teams involving over 200 bloggers plus countless volunteers.
Sport Relief takes place from Friday 21st to Sunday 23rd March and for the first time ever the public can run, swim or cycle in the brand new Sainsbury's Sport Relief Games. For more information on how to join in the fun and games, raise cash and changes lives, go to sportrelief.com.