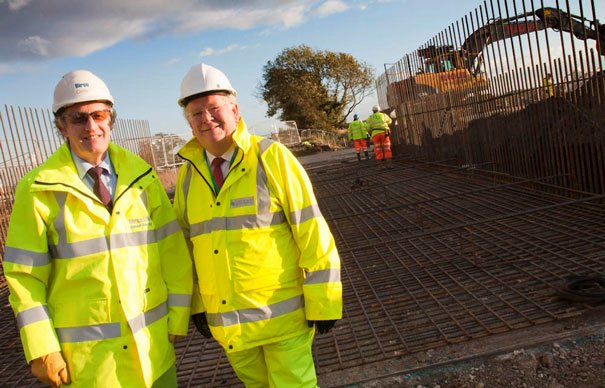 Beverley's £22 million integrated transport plan is progressing well since the worked began on site at the end of July.
Over the past three months, the contractor , Birse Civils Limited, has established a compound and has started the process of developing the new Beverley Southern Relief Road, including drainage, excavation and utility works.
Councillor Stephen Parnaby OBE, leader of East Riding of Yorkshire Council, visited the site recently to view the works and speak to members of the project delivery team and was impressed by the scheme so far.
He said: "Many years of hard work have taken place behind-the-scenes on the Beverley Integrated Transport Plan and it is great to finally see this important infrastructure scheme underway.
"A number of local companies have already been engaged as part of the supply chain for this scheme, providing a timely boost to the economy.
"Due to the nature of the work there will, inevitably, be some short-term disruption but we will endeavour to keep this to a minimum and would like to thank our residents, motorists and the travelling public in advance for their patience and understanding. When complete all of these groups will benefit from improved transport infrastructure for decades to come."
David Lowther, contracts manager for Birse Civils, said: "We are really pleased with the progress we have made to date; it puts us in a strong position for the New Year. Part of the work we have been doing involves partnering with East Riding College to provide training in construction and civil engineering for those who are currently struggling to find employment."
To allow the Beverley Southern Relief Road to be constructed, Shepherd Lane has been permanently closed to vehicles and various footpaths, which cross the route of the road, have been diverted.
Archaeological investigations along the route of the southern relief road, which have unearthed some notable finds, are nearing completion, with construction of earthworks embankments ongoing.
Overhead 33kv and 11kv power cables have been raised and diverted underground, respectively, and precast concrete culverts have been installed to allow existing ditches to pass under the new road.
Long Lane has been temporarily closed and traffic diversions put in place to allow a new underpass to be constructed. Drainage works have commenced at several locations and notably at Figham following topsoil stripping and ecological monitoring, with excavation of the balancing pond adjacent to Long Lane also complete.
Piling works have commenced with the successful installation of a test pile at the location of the proposed bridge, which will allow the relief road to pass over the Hull to Scarborough railway line.
At Grovehill roundabout, where a new traffic signal controlled junction will be constructed, following completion of some enabling earthworks, statutory undertakers have, in advance of the main construction works, been diverting their underground plant and equipment, which is nearing completion.
During the coming month works will continue in the areas identified above, with carriageway construction, kerbing and additional drainage works also commencing. In addition, enabling works are planned to commence at Swinemoor roundabout, initially involving earthworks and statutory undertaker diversions.
The scheme is anticipated to be completed by early 2015.