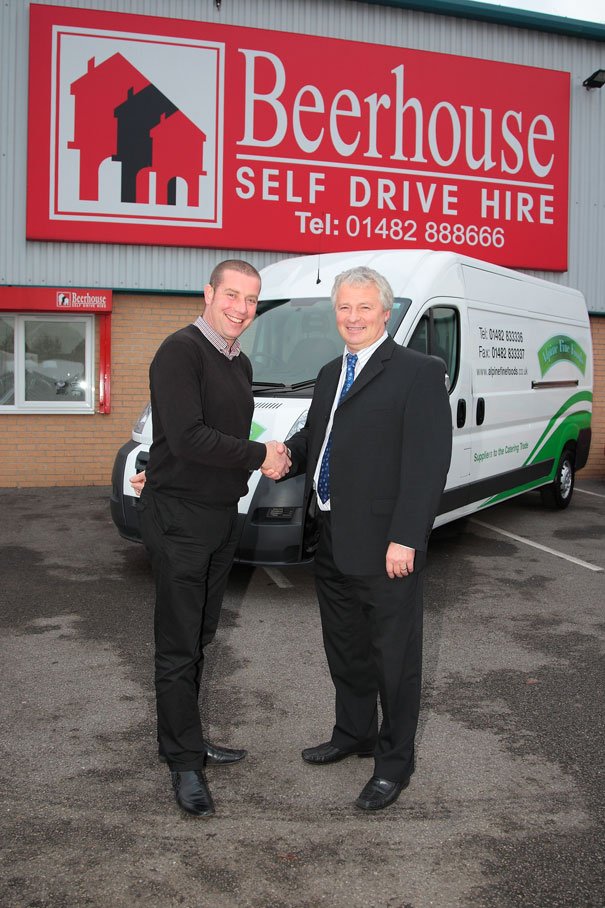 Hull-based food wholesaler, Alpine Fine Foods, has recently extended its fleet of branded refrigerated vehicles with local independent rental company, Beerhouse Self Drive Hire. The new contract for eight refrigerated vehicles comes as a result of continued business growth and will allow Alpine to cope with increased demand ahead of the busy Christmas period.
The eight new refrigerated delivery vehicles will operate alongside Alpine's nine existing multi-temperature delivery vans, which were sourced from Beerhouse at the start of 2012, as part of a £300,000 investment. Alpine Fine Foods now has a total fleet of 23 vans working out of Hull.
Alpine initially decided to work with Beerhouse due to the company's local roots and its flexibility of service – Beerhouse has a fleet of multi-temperature vehicles available for daily, weekly and monthly spot hire, plus longer terms if required. Peter McAlpin, founder of Alpine Fine Foods comments:
"We chose to work with Beerhouse because, like us, they are a Hull-based company and it is part of the ethos of Alpine Fine Foods to support local businesses wherever possible. We wanted to work with a local rental firm so they could provide us with a quick, flexible service and keep downtime to a minimum should anything go wrong with one of our vehicles.
"Over the past year, our business has grown very quickly, especially with us introducing our new butchery department, and we have worked closely with Beerhouse to ensure we can continue offering a fast turnaround for our customers. Our deliveries span a wide area from Leeds to Whitby and everywhere in between, so it's essential our fleet is always up and running. Christmas is a very busy time for us too, so the additional eight refrigerated vehicles Beerhouse has sourced for us will help us to meet demand."
Phil Moses, Sales Director for Beerhouse takes up the story:
"We have worked with Alpine Fine Foods for just over a year now and we are delighted to see that the business is continuing to grow. We have sourced these refrigerated vehicles specifically for Alpine to ensure they meet their exact requirements. The branded vehicles are economical to run and we have a fleet of replacement vehicles in place should any of the vans need repairing or servicing.
"We predict that demand for refrigerated vehicles will grow over the coming months, due in part to the festive season and also because new legislation governing the storage and delivery of chilled and frozen food has come into play. Anyone delivering food for public consumption, from a local butcher to wholesaler, must ensure the food is kept at the correct temperature throughout the delivery process. We are on hand to provide advice to anyone requiring a multi-temperature vehicle for their business, whether for a short or long term period."
Beerhouse Self Drive Hire was established in 2005 and its services include daily spot hire rentals, long and short term flexible rentals and contract hire. The company also specialises in corporate vehicle hire and currently runs in excess of 400 vehicles covering cars, people carriers, minibuses and vans. When required, Beerhouse can source and rent bespoke vehicles to suit project work as well as providing chauffeur services. Beerhouse also recently launched a new motorhome rental service to meet increased customer demand.
Alpine Fine Foods was established 11 years ago by Directors Peter McAlpin and Darren Peacock , who have over 30 years' industry experience. The company supplies ambient, chilled and frozen food, in addition to non-food and catering products to clients including health and education establishments, staff canteens and leisure and hospitality outlets. Earlier in 2012, Alpine Fine Foods joined forces with Charter's Butchers of Brandsburton to offer a new butchery service to clients.