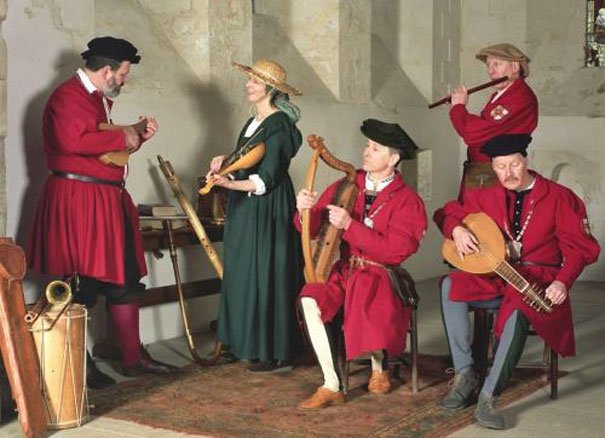 Medieval and Renaissance style musicians York Waits and classical singers Ti Amero are all set to perform at the Beverley Christmas Festival of Food & Drink on Saturday 24th November.
The York Waits musicians will be playing a fanfare whilst the Festival is officially opened by Mayor of Beverley Councillor Margaret Pinder and Vicar of Beverley Minster, Jeremy Fletcher at 10.00am, and they will continue to play throughout the morning.
Additionally, York Waits will be giving a talk at the event at 11.00am, giving information about the origins and tradition of Waits music in the UK, as musician William Marshall explained. He said: "The York Waits recreated the official band of their home city as it was in Tudor times, playing instruments such as shawms, sackbuts and old English bagpipes that would have been heard on the streets of towns and cities such as York and Beverley 500 years ago.
"The Waits have performed frequently in Beverley, which, in the medieval period, was a guild headquarters for musicians in the North – this might explain the huge numbers of detailed and fascinating carvings of instruments that are to be found in the Minster."
Classical pop quartet Ti Amero will also be setting the seasonal scene at the Festival, as they perform a variety of Christmas songs, as well as some Italian and Spanish arias. These fab four tenors will be singing at regular intervals throughout the afternoon of the event, with their grande finale beginning at 3.00pm.
Beverley Brass Band will be entertaining shoppers with a medley of Christmas music from 1.00pm.
The free to attend festive food event, is being held inside the Minster from 10.00am til 3.30pm, and it will feature a variety of food and drink stalls promoting local producers, as well as cookery demonstrations, food and drink tastings and family entertainment. There will also be a tombola and craft stalls.
Refreshments available at the event will include soup, sandwiches and homemade cakes, served in the Minster Parish Rooms.
Town Clerk Helen Watson said: "We are delighted that York Waits, Ti Amero and Beverley Brass Band are joining us for this Christmas Festival of Food & Drink. They will provide a wonderful musical backdrop to the proceedings and keep Festival visitors entertained throughout the day.
"We are very much looking forward to the day and hope to see lots of visitors supporting local producers by buying their Christmas gifts and celebration produce at the event."
The Beverley Christmas Festival of Food & Drink is being hosted by Beverley Town Council, in association with Beverley Minster, and it is part of the Local Food project, funded by the Big Lottery Fund's Changing Spaces programme.