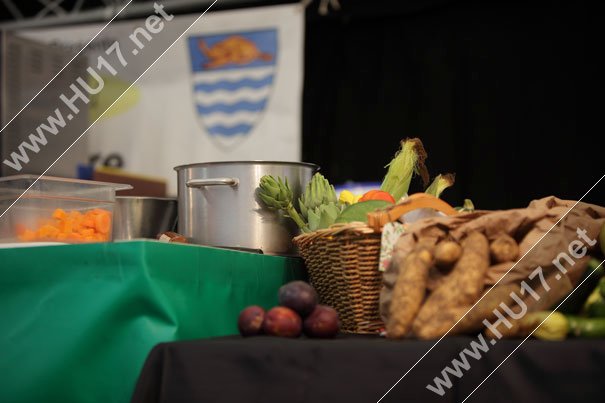 Following on from the success of its 2012 Beverley Food Festival, Beverley Town Council has announced a new seasonal event promoting local food, this time with a festive feel.
The 'Christmas Festival of Food and Drink' is being held inside Beverley Minster on Saturday 24th November between 10am and 3.30pm, and it will feature a variety of food and drink stalls promoting local producers, as well as cookery demonstrations, food and drink tastings and family entertainment.
This free to attend festive food event is being hosted by Beverley Town Council, in association with Beverley Minster, and it is part of the Local Food project, funded by the Big Lottery Fund's Changing Spaces programme.
Entertainment at the event will include cookery demonstrations from local producers, to show visitors how to create Christmas classics in their own homes; such as pork pie making from E & EG Bullivant and Daughters, bread making and croissant crafting from Side Oven Bakery, and cupcake decorating from Ginger Kittens Cupcakes. A Caribbean twist will be provided to the proceedings by Bantaba Foods which will demonstrate warming dishes such as goat curry.
Classical pop quartet Ti Amero will be setting the seasonal scene in the Minster, as they perform a variety of Christmas songs, as well as some Italian and Spanish classics.
Flower arranging experts Mark and David Gillyon-Powell will show visitors all they need to know about creating festive fruit, vegetable and floral table decorations, and Kevin O'Hara will give a demonstration of Christmas wreath making.
The Minster shop will be open for Christmas cards and gifts and refreshments will be available.
Describing the event, Town Clerk Helen Watson said: "Our Beverley Food Festival in October has proved to be very successful. We want to build on this by having more seasonal events in the town throughout the year. The successful local food bid from 'Field to Table' will help fund these events. This Christmas event is going to be a food and drink festival with a difference, featuring wonderful festive local produce, within the setting of the magnificent Minster. It is free admission for residents and visitors to come and enjoy and learn about local food, how to make festive floral decorations and enjoy the free musical entertainment from the York Waits and Ti Amero. We hope lots of visitors will come and join in our festive fun.
"Cooking demonstrations at the Festival will show visitors how to create classic dishes at home, which can be especially inspiring at this holiday time, when family and friends are visiting."
Local Food Co-ordinator Marie-Louise Robinson said: "Our aim through the Local Food project is to support local producers and give a flavour of the fabulous produce available locally. Visitors to the town have expressed an interest in more local produce events and this Christmas themed festival will keep that interest alive.
"We are also looking to recruit allotment champions to help us with a training plot in the town, to get more people interested in growing their own vegetables and fruit, so if anyone would like to get involved, please call me on 01482 874096 or email localfood@beverley.gov.uk."