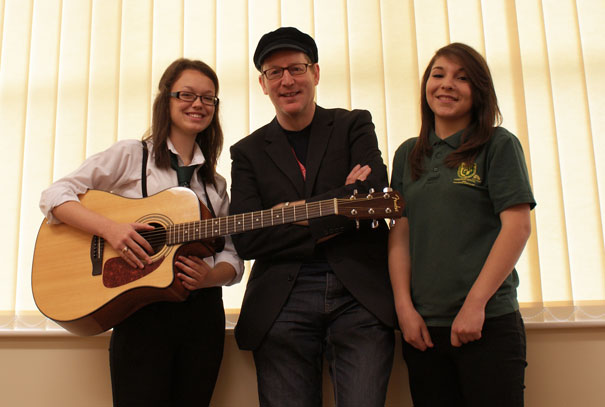 Students at Longcroft School and Performing Arts College were given the opportunity to appear live on stage at the Beverley Folk Festival on Friday 15th June, after a song writing master class with musician Henry Priestman.
Hull-born Henry was in the original line up of 80s band The Christians and has an extensive career, not just as an acclaimed singer and songwriter, but also composing music for commercials, working as a producer for other artists and being a favourite at the Beverley Folk Festival.
However, this was not Henry's first visit to Longcroft – he has run similar workshops with students in the past, with those who are now in Year 11 eager to work with him again, after first meeting him when they were in Year 9.
Henry said: "It was great to be back at Longcroft – I'm always knocked out by the level of talent the students have and the creative atmosphere they generate. They worked really hard to produce songs that meant something to them and shone when they took to the main festival stage. It was fantastic to see such imaginative young musical talent in action and given a platform for their voice."
Jonathan Chapman, Assistant Headteacher, explained: "The workshop was quite intense, with twenty students working in smaller groups to create songs to be performed that very night at the Beverley Folk Festival – it would be a challenge for anybody, but Henry's enthusiasm was infectious, with our students composing some really original and accomplished songs."
The culmination of the workshop saw the students become the first performers on the Festival's main stage, acting as a warm-up band to Radio 2 Folk Awards nominee Lady Maisery and legends of folk Steeleye Span. This follows in Beverley Folk Festival's tradition of not just showcasing established roots, folk and acoustic artists, but also encouraging young, local musicians.
Festival founder and director, Chris Wade, explained how important it was for local youngsters to get involved. She said: "This was our twenty-ninth year and more than ever before young people were at the heart of the festival, ranging from the new generation of musicians that appeared in the Area 2 Marquee, to the involvement of Longcroft students.
We have worked closely with the school in recent years and every time our artists always say what a rewarding experience it's been. It was also great to see Longcroft sixth formers volunteering at the event, helping with everything from stewarding and technical support, to running craft and story sessions in the children's marquee. We look forward to working with the school in 2013, as we celebrate thirty years of the Beverley Folk Festival."
The students who worked with Henry Priestman were just as enthusiastic.
Nikki (16), said: "Henry Priestman encouraged and guided us through the Folk Festival experience, teasing out our songwriting talents. The whole process has been incredible. I will remember these opportunities and performances for the rest of my life."
Nathalie (16) agreed, adding: "It has been a great experience working with Henry for a third time and he has given us the confidence to strive for success."
Longcroft School looks forward to working with both Henry Priestman and the Beverley Folk Festival again in the future, but in the meantime, the students who were inspired by the event will continue to write their own song, helping to keep music alive for a new generation.