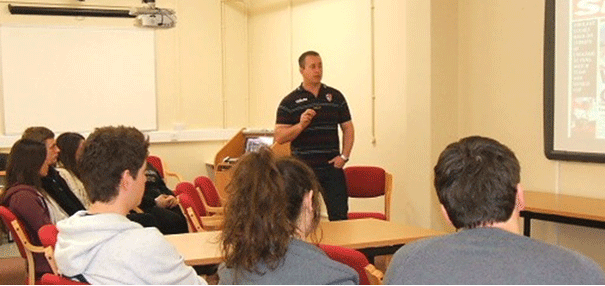 England Rugby League Coach Steve McNamara visited Longcroft and spent time working with a group of students in Years 12 and 13 at Longcroft School and Performing Arts College as part of a programme aimed at preparing them for their examinations and applications to highly competitive universities.
Year 13 students, in their second year of the programme, have covered topics such as coping with pressure, time management and visualisation with experts such as Paralympic athlete Tim Prendergast, former Hull KR coach Justin Morgan and Hull FC legend Lee Crooks. A psychologist, Kathy Denton, who has worked with several nationally renowned companies, gave the students advice on promoting themselves effectively.
Steve was invited to offer advice on all aspects of preparation and gave an insight into the strategies he adopts with the England team. Having played at the highest level, Steve was able to pass on tips from a glittering playing career that saw him win every trophy in the game. Currently responsible for England's top players, he discussed how various characteristics can prove both highly positive and potentially destructive when aiming for optimum performance.
Assistant Headteacher Andy Baker explained
"We have always had an impressive record in terms of our students progressing into Higher Education, but young people are facing increasing competition."
"This programme aims to give the students tips and strategies that will enable them to compete with confidence, both now and throughout their lives – it is about that 1%, the edge that can be the difference between A and A*, earning the university place or not or maybe getting a job and being unsuccessful."
"For example, Justin Morgan talked about foods that help elite athletes relax and sleep well the night before a game. The students involved are all extremely able and have excellent attitudes towards their studies."
"They appreciate the parallels that exist between sporting and academic success and have enjoyed working with people as knowledgeable as Steve, who commands respect and is an outstanding communicator."
In putting the programme together I identified several areas such as dealing with pressure and time management, and then approached people who could offer an insight."
"To hear first-hand how Tim Prendergast coped with the expectation of his nation and put defeat behind him to win Paralympic Gold and how Lee Crooks overcame nerves by visualising himself kicking goals for Great Britain has been inspirational. The various presenters have certainly enjoyed the sessions and while they are all busy people, give their time generously."
Steve's visit was tremendously informative, and Deputy Head Boy George Mason who is hoping to study Civil Engineering at Manchester, Newcastle or Cardiff said,
"Steve's presentation focused a lot on the problems when new groups come together, stopping them becoming an effective team. I thought this was a really good subject to approach as we will be in the same situation in September when we go to university."
"I found it interesting to see some of the psychological analysis that had obviously been done on the players and tried to compare where I think I would fit in. It was particularly interesting to learn how qualities that you think are good can be seen as negatives by some people."
"I thought it was a really beneficial talk and will remember a lot of what he told us and try to use it when it is appropriate"
As Longcroft's Year 13 students prepare for their final A-level examinations, the programme will be repeated for Year 12 and Mr Baker pointed out,
"Our aim is to offer our students every opportunity to succeed in their chosen field whatever that may be. I know the students involved have enjoyed the programme and I'm sure they will find the advice they have picked up extremely valuable, both now and in the future."