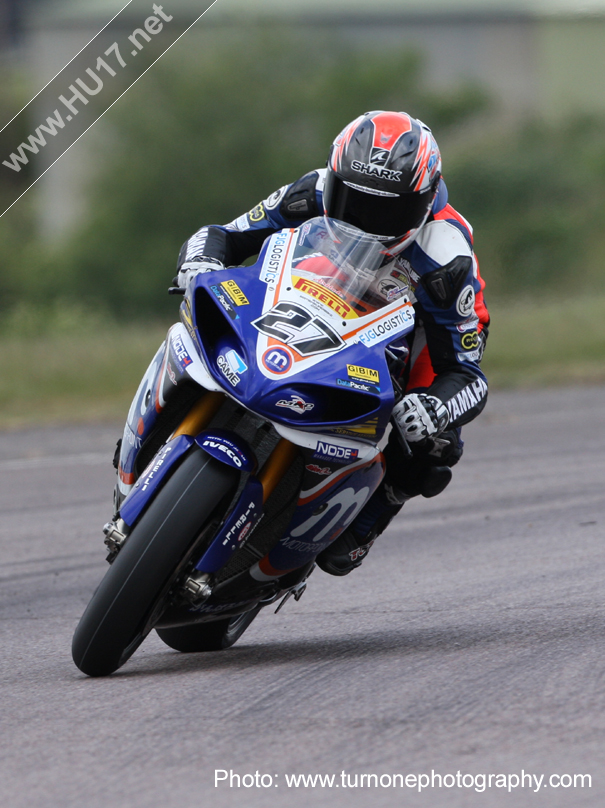 A wet track played a big part in this weekend's British Superbikes race at Thruxton as Loris Baz and James Westmoreland learned valuable lessons and gained valuable points.
It was an excellent start to the weekend when Westmoreland and Baz were lapping quickly to take the 1st and 3rd fastest laps in free practice test three. This marked the team out as one to watch on race day. Motorpoint's young guns keep showing that they are capable of the kinds of laps needed in the Superbike Championship to compete for podium places. At the moment this has been consistently produced in the free practice rounds and qualifiers but the team have found it difficult to transfer that speed to race day.
Thruxton was no different as the rain came down on what had promised to be a good day for the Motorpoint team. When the race was declared a wet race the team were once again forced to make a decision of wet tyres or slicks – both riders made an initial choice of slicks in the warm up but had to change half way through.
In a hazardous race 1 where Shane 'Shakey' Byrne gave a masterclass in riding in the rain, he climbed from 33rd on the grid to 3rd place, Baz and Westmoreland finished 25th and 26th respectively. Then in the second race they found it difficult to gain places back after their low start on the grid but they still managed to claim important points from Baz in 11th and Westmoreland in 12th place.
Says Loris Baz: "It was a shame as I had the pace to take the top five in race two but I couldn't see two metres in front because of the spray so it was horrible to take over. For the second race I had no hesitation in choosing wet tyres. I started 14th on the grid and moved up to 11th so I'm satisfied with that second race."
Photo: www.turnonephotography.com
Use Facebook to Comment on this Post