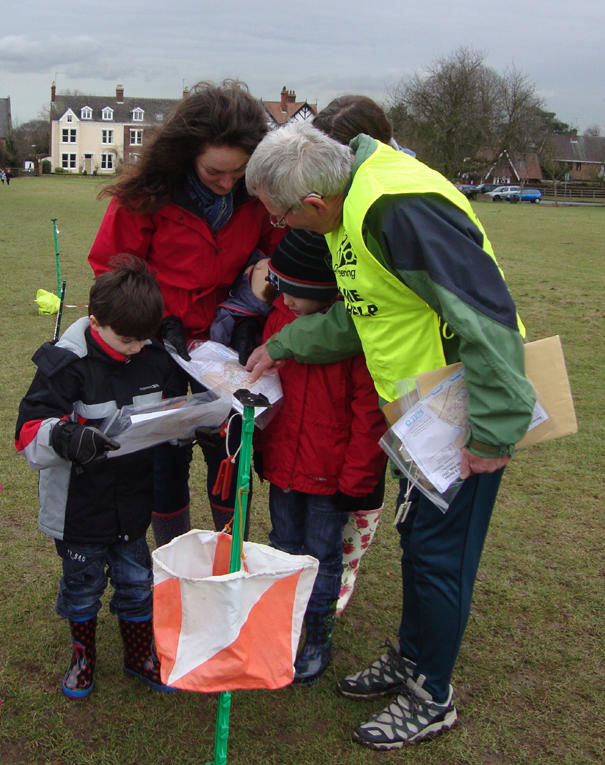 Despite the promise of pretty miserable weather, over sixty people enjoyed the latest orienteering event, organised by HALO (Humberside and Lincolnshire Orienteers) on Beverley Westwood on Saturday afternoon.  The majority had never orienteered before.
The good turn out was helped by announcements by the local media and in addition to posters and banners around The Westwood.
There were many family groups having fun running backwards and forwards searching for the correct control sites in the Newbiggen Pits section of Beverley Westwood.
There were four conventional orienteering courses and two maze courses for everyone to have a go at.
The scout group won the award for enthusiasm, they had a go at every course except the Technical one, one group almost had to be dragged off the course by the scout leader as it was starting to get dark!
The best performance of the day went to HALO member Charlotte Ward who won one and came second in the three courses she attempted.  She achieved this in addition to having won the Humberside Schools Cross Country Championships in the morning, quite a busy day.
The next events in the series of events suitable for newcomers are at Weelsby Woods, Grimsby (February 19th) and Cleethorpes Country Park (March 19th).  Full details of these and other orienteering events can be found at www.halo-orienteering.org.uk.
HALO also run weekly club nights in Beverley (Mondays at Longcroft School) and Grimsby (Wednesdays at Oasis Academy, Wintringham).
Summary of results
There were seventeen entries on the White course, which was won by William Dixon (Independent) in a time of 6 minutes 40 seconds. Luke Beecroft (Independent) who has been attending the Monday Club Nights at Longcroft School was second.  Sixteen groups attempted the Yellow course which was won by Katie Slocombe (Independent) in 10 minutes 40 seconds.
George van Dam (HALO) was second.  The Orange course presented quite a few technical challenges in the Newbiggen Pits for many of the sixteen who tried it,  but  HALO members Brian and Charlotte Ward had no such problems finishing in first and second.  Dad Brian just pipping Charlotte in a very impressive 11 min 21 seconds.
The Technical course started and finished in the Newbiggen Pits with the middle section going out on the main part of the Westwood.  Eleven entrants on this course, Brian Ward again victorious in 19 minutes 57 seconds. Charlotte again second, no doubt just jogging round as in the morning she had won the Humberside Schools Cross Country Championships – a busy day!
Paul van Dam (HALO) was fastest out of the nineteen entrants on Maze5, winning in a time of 1 min 38 seconds.  On Maze6 Charlotte finally got revenge over her Dad, being the fastest of the eighteen entrants in 1 min 15 sec.  The full results for all six courses can be found on the HALO web-site (www.halo-orienteering.org.uk).