Beverley Local Action Team held a Question Time style event at Longcroft School yesterday. 32 students put a variety of questions to a panel made up of local police, health, voluntary sector and youth service staff along with local town and ward councillors and a young person volunteer. The questions, which the students came up with, included:
What are the police doing about the gangs of young people hanging around in Beverley?
Local Neighbourhood Inspector, Mark Coulthard, told the group how the gangs of young people had dramatically reduced in the last years, there used to be gangs of up to 90 young people and now there are gangs of maybe 15. He said that there are a handful of young people who consistently cause trouble in Beverley and they have been arrested 22 times in the last couple of months, anything they do wrong they will be punished for.  He recognises that it ia the minority who give young people a bad name, if a gang of young people is doing nothing wrong the police may stop and talk to them but they will not move them on.
Will the fire service have to cut the number of emergency vehicles as a result of the cuts?
A fire officer was unable to attend the event but Paul Clucas, Community Safety Manger, did provide an answer.
We have a one year Integrated Risk Management Plan (action plan) and a flexible 3 year Strategic Plan that proposes ways to improve efficiency and value for money whilst maintaining the safety of its communities and firefighters. If accepted then they should be able to produce the 25% savings that were announced following the Comprehensive Spending Review. If these are not accepted or the cuts are greater than the 25% announced (which is an indication figure) then we may need to consider alternatives.
None of the current proposals include reducing the number of vehicles at this stage.
Why is a new hospital being built in Beverley rather than expanding the Westwood?
Chris Rooke from the NHS explained that as the Westwood Hospital is a listed building and development potential is very limited. Accessibility to the site is also an issue and there is not much room to improve this. The new site on Swinemoor Lane will allow for redevelopment and easy access.
The event allowed members of the LAT to develop their youth engagement and find out what issues are important to local young people. It also allowed the students to learn about the role of the LAT and how communities and partners work together. The students also got the opportunity to learn new skills, develop self esteem, meet people they would not ordinarily come into contact with and learn that their views do count!
The event was a huge success and positive feedback has been received from the LAT, the school and the young people involved. A similar event will hopefully be held at Beverley Grammar School in the New Year.
Cllr Kerri Harold, Chair of the Beverley Local Action Team was delighted the event was a success. She said, "I am delighted we had such a good response to this event. We anticipated around 20 students would be involved, and we ended up with 32. They had submitted 41 questions in total, so we had to limit the questions due to time constraints.
To ensure all students get an answer to their questions, the ones that weren't asked on the day have been sent to the relevant partner and we will be forwarding the answers to the school at a later date." She added, "We are extremely grateful to all the Partner Organisations for attending and to Longcroft School for having us!"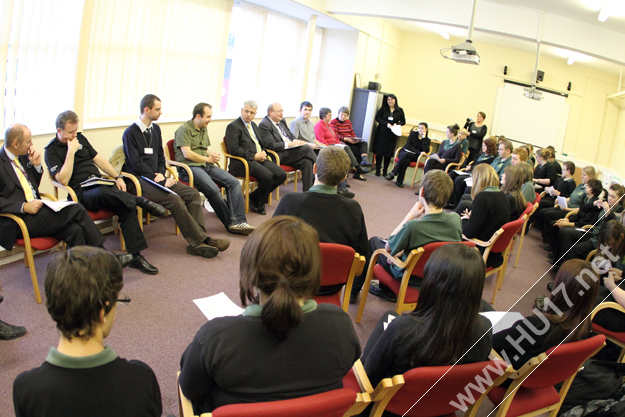 HU17.net Picture Gallery: Click on the thumbnail picture below to enlarge the image to full size
HU17.net Picture Gallery: Click on the thumbnail picture below to enlarge the image to full size