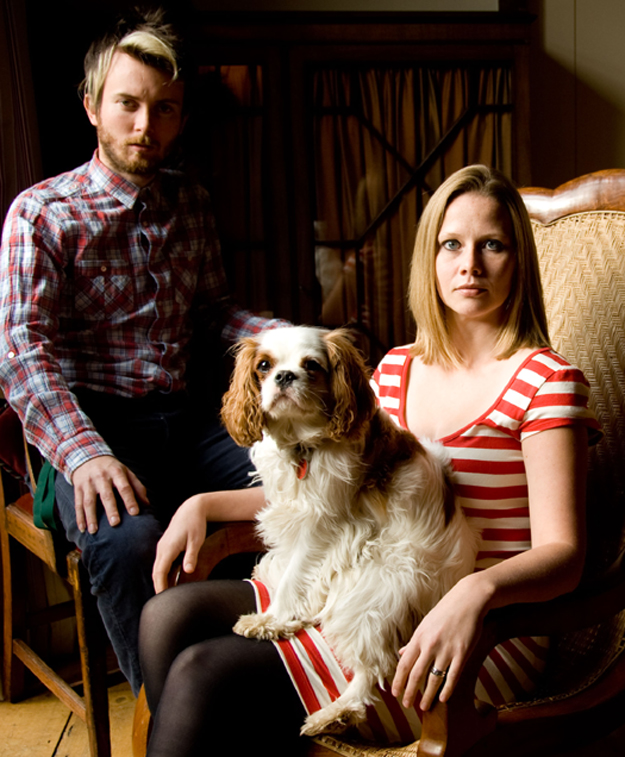 Combining the talents of Stu Hanna and Debbie Hanna-Palmer the duo Megson is fast becoming 'hot property' on the British folk and roots scene. Their three albums have chronicled that blossoming creative talent and such is their popularity it has taken over a year for the Processed Pea to secure a booking.
Originally from Teesside, the husband and wife duo met singing in the local Cleveland Youth Choir. At that time, they both had very different music career paths ahead of them. Debbie trained to be a classical singer, taking a degree in Music at Leeds University followed by post-graduate success at Trinity College, London where she gained a distinction as a classical soprano. Stu was playing in a pop-punk band run by an American manager who had big ideas for the band. They soon found that neither of these worlds were ultimately for them and joined creative forces in Megson in 2004.
The duo have played at numerous folk clubs and festivals, initially supporting acts such as Show of Hands and Seth Lakeman but now sell out their own extensive tour dates. Their growing talent was recognised with nominations for Best Duo in the 2009 & 2010 BBC Radio 2 Folk Awards.
The Guardian gave their album 'Take Yourself a Wife' a 4-star lead review in its Friday Arts supplement and followed this with a major feature on the act. The Independent has listed Megson in their '5 Gigs to See' section on no less than 3 occasions and they recently received a 4 star review for their live show from The Financial Times.
Indeed Seth Lakeman said of them "For my money" Megson are amongst the most exciting trailblazers of British Contemporary Folk."
In addition to his role in Megson, Stu's talents as a producer on the folk scene are very much in demand and he has produced albums for Show of Hands, Hull's Circus Envy, Benji Kirkpatrick, Faustus and Mawkin:Causley.
Processed Pea Organiser Martin Peirson added;
"It's wonderful to see young talented performers breathing life into folk music like these two do. They have a great ear for dynamics so their songs range from tender heartfelt ballads to lively foot-tappers- a great live act"
Tickets (£9) are available in advance from Beverley Tourist Information & Costcutter Cherry Burton . Telephone reservations /info tel: 01430 810669.