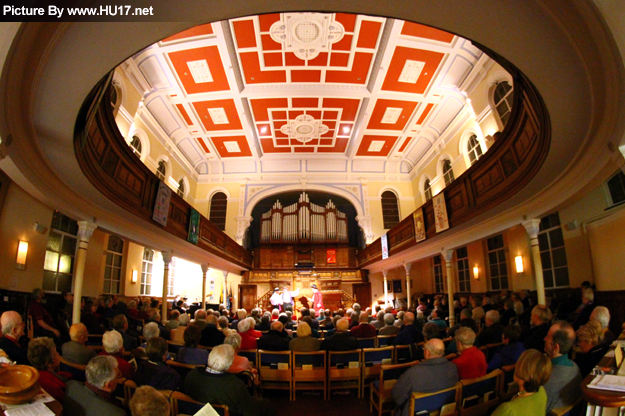 A wonderful concert series, organised by the council's arts development service, awaits East Riding concert-goers in the forthcoming season, bringing music to your doorstep from October 2010 through to May 2011.
This season offers a wide variety of concerts at Beverley, Bridlington and Pocklington.
The season opens in style with a welcome return from London Theatre Voices presenting 'Opera, Opera, Opera' at The Pocklington Arts Centre on Wednesday, 6 October at 7.30pm.  London Theatre Voices are a quartet of singers who have sung in most of the UK's Opera Houses and several abroad.
Richard Durrant is making a welcome return to the Toll Gavel United Church, Beverley, on Thursday, 14 October at 7.30pm.  There is no other guitar concert on tour anywhere in the world quite like Richard Durrant's "Guitar Whisperer".
The 2010 show begins with a virtuosic trip to Latin America and a stunning arrangement of Debussy's Arabesque. The adventure continues with Richard's unique solo take on Mike Oldfield's Tubular Bells played to footage of the Apollo moon landings, JS Bach on the humble Ukulele, and Falla's La Vide Breve with Miranda Vincent's Goya inspired film.
At The Spa Bridlington on Wednesday, 27 October (7.30pm), Oyster Opera will be performing La Bohème. Sung in Italian, with piano accompaniment, La Bohème is one of the most famously melodious and eternally popular of all operas.
In a bare garret in 1830s Paris, we meet four young Bohemians whose carefree attitude is poignantly contrasted with the harsh realities of life. Mimì, a solitary seamstress, falls madly in love with Rodolfo, the poet, and we follow their passionate and tragic love affair along side the tumultuous relationship of their friends Musetta and Marcello.
This is a fabulous choice for both cognoscenti and those new to opera.This production is performed in period costume, with piano and full set.
For a full brochure of the season's concerts and more information, please call June Mitchell, community arts officer, on (01482) 39265
HU17.net Picture Gallery: Click on the thumbnail picture below to enlarge the image to full size
HU17.net Picture Gallery: Click on the thumbnail picture below to enlarge the image to full size