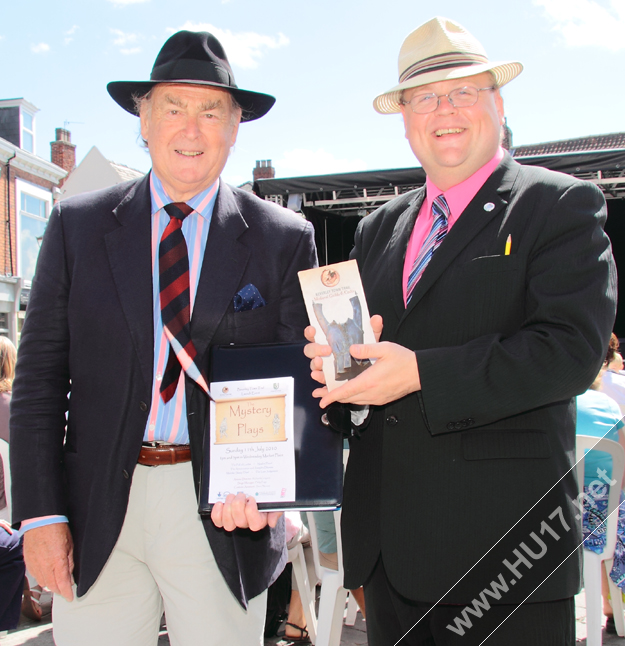 Beverley's Town Trail has been a true community effort that has taken years of hard work to come to fruition.

Yesterday's launch in Wednesday Market was a fittingly lively event that emphasised all that hard work, with local schoolchildren firmly to the fore.
Children from Molescroft Primary School, St Mary's Primary and Swinemoor Primary entertained a sizeable crowd with excellent performances of period songs from wartime Britain back to Victorian times, while the Longcroft School Gospel Choir and Market Weighton School Choir added a colourful touch to proceedings.
It was fantastic to see so many people involved with a project that has added a huge amount of value to any visit to the town, for locals and visitors alike.
For Lesley Hughes, head teacher at Longcroft School and Performing Arts College, said it was a day to savour. Pupils from her school were heavily involved in the day's events, while their partner schools had benefited from the organisation and enthusiasm  of her team and pupils.
She now hopes the Beverley Town Trail can become a permanent part of the education her school can provide for local children.
She told HU17.net: "We have been involved with the performances on the day and have involved children in all sorts of different ways. They are very keen.
"The primary schools have had a fantastic time, they have worked hard and prepared hard and I love to see them within the community, meeting new people and sharing in Beverley's history and hopefully going through the fantastic trail. It is very exciting.
"It is brilliant to see the community come together and for Longcroft School to be a key part in that and offer this contribution today, I am just so very proud. We must make sure we use the trail and I am sure we will do that  through history and through the crafts.
"I see all sorts of opportunities coming up and I think it is brilliant. Thanks to all the volunteers who made it happen."
Key to Longcroft School's participation in the Town Trail's launch and creation has been Matt Snowden.
Matt Snowden, Longcroft School's community liaison co-ordinator, has been heavily involved with the Town Trail Committee and was responsible for planning and executing the launch event.
He said: "I am very proud for Longcroft to be involved, I think it is one of the first times we have been really involved in managing a town centre event and hopefully it has opened up lots of new avenues for us for future working.
"Being born in Beverley,  to be part of this celebration of our history has been fantastic, especially working with some of the Town Trail Committee.
"I think it brings the history of the town to life. I have thought for a long time that Beverley needs more artwork within the streets, especially sculptures. It really brings the past to life and it has added an extra dimension to our town."
Funding for the Beverley Town Trail has come from a number of sources. But one of the main contributors was the East Riding of Yorkshire Council, who granted the project £100,000 in a special one-off performance grant.
Chief executive of East Riding of Yorkshire Council, Nigel Pearson, was at the launch and was delighted to see such a great turnout for what he believes is a great attraction not only for Beverley, but for the East Riding as a whole.
He told HU17.net: "I think this is a fantastic day for Beverley and it is great for the East Riding as a whole as well.
"For Beverley to be able to celebrate its heritage is really terrific and it reminds us of not just of the present but also that we have a past as well. I am delighted with the involvement from all sections of the community, it has been absolutely first rate.
"We were very pleased to donate the money. It was a big contribution towards the overall cost of this project and we are delighted with the outcome.
"Just look at all the people here today in the town of all ages and of all backgrounds enjoying the day."
HU17.net Picture Gallery: Click on the thumbnail picture below to enlarge the image to full size
HU17.net Picture Gallery: Click on the thumbnail picture below to enlarge the image to full size