Anglo-Swedish band We Ghosts treated Beverley music fans to a glimpse of the future of accoustic folk and blues at Bar Fusion on Saturday night.
The three-piece band are already a huge hit in Sweden, home of vocalist Jen Woodall, and it's hard to see how they can't emulate that success in this country where they already have a loyal and growing following.
In classical folk tradition, We Ghosts are a two guitarist, one vocalist band without a percussion section, and there are undoubtedly nods towards many famous trailblazers. But Jen's ethereal vocals and a definite modern slant soon take you away from the old-fashioned view of a folk band.
Opening with several self-penned songs, the scene was immediately set. The band's tempo was upbeat and lively with accoustic guitarists John Christopher and Frankie Jack complementing each other perfectly.
But it was the harmonising that make We Ghosts that little bit different. Jen's fairly high-pitched vocals conjured up vague images of bands like Judith Durham's The Seekers and Peter, Paul and Mary, but her undoubtedly Scandinavian lilt adds a fairy-tale feeling to proceedings and, deliberately or not, there's a Sugarcubes-era Bjork edge to the band's sound.
Cookie Jar brought Fankie to the fore, and his and John's vocals provided a perfect platform for Jen to showcase her talents as she weaved in and out of tradition effortlessly.
An unusual choice of cover versions – including The Who's Substitute and T Rex's Children of the Revolution – showed We Ghosts know how to take a classic and re-work it entirely, and the lively Fusion crowd lapped it all up.
We Ghosts definitely provide something different for the local music fan and need to be heard before being pigeonholed. Their understanding of the traditions of folk, blues and pop are welcome, but even more welcome is their ability to rip up the rule book and drag a style of music that is sometimes over-indulged kicking and screaming into the future.
*You can see We Ghosts at The Adelphi, in Hull, tomorrow night (Tuesday) from 8.30pm.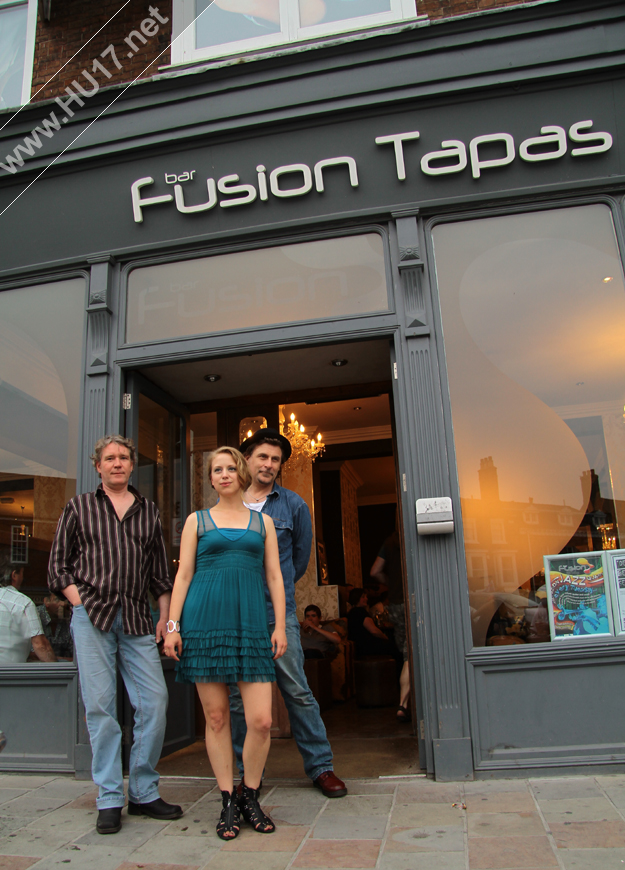 HU17.net Picture Gallery: Click on the thumbnail picture below to enlarge the image to full size
HU17.net Picture Gallery: Click on the thumbnail picture below to enlarge the image to full size