Beverley United finally got back into action as they faced a tough game with Hull side Newlands Rangers. All the talk before the game was about the return of former Beverley United player Daniel Moore though the striker was given little room or clear sights of goal by a solid Beverley United defence.
Beverley United had the best chances with Michael O'connell coming close in the first half though his shot was some how cleared off the line and hitting the post late on the second half from a free kick.
If Williams needed any assurances that his decision to allow Moore to leave Beverley United then he got it in this game. The striker had just a couple of chances sending the first high and wide and the second one crafted himself was easily saved by Beverley United's keeper Adam Nicholson.
In heated game both sides which the referee did his best to keep under control, after the final whistle there was a coming together of players and coaching staff and words were exchanged. The draw ensures Beverley United remain above Newland Rangers in the Humber Premier League.
Former Beverley United player Moore creates a chance only to see his shot saved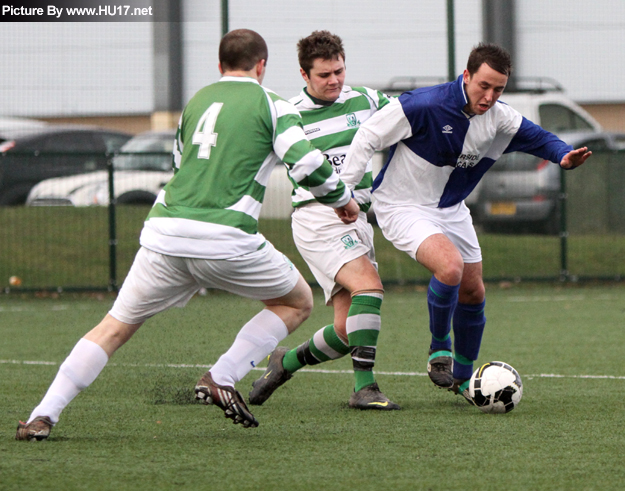 HU17.net Picture Gallery: Click on the thumbnail picture below to enlarge the image to full size
HU17.net Picture Gallery: Click on the thumbnail picture below to enlarge the image to full size