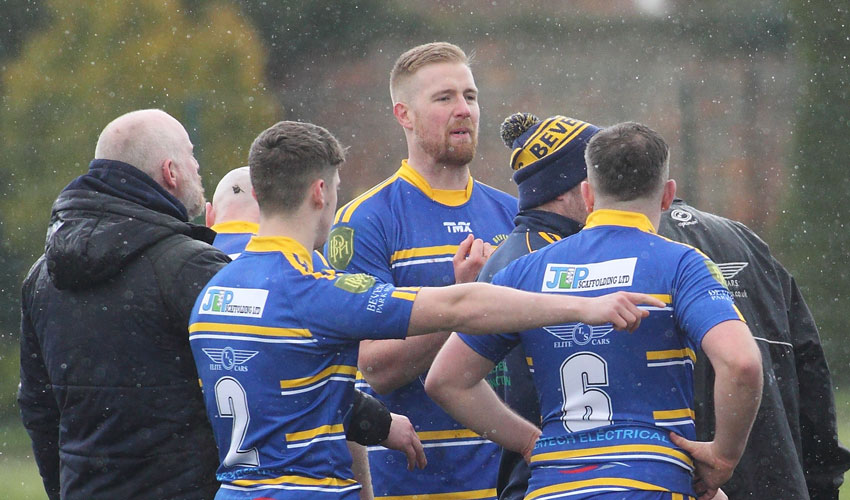 The Blue and Golds came up against a strong Barrow Island outfit at the Leisure Center on Saturday as they were beaten 18 – 40.
The Cumbrians were an efficient unit with bulk across the park. They built up a 32-6 half-time lead and Beverley will at least take heart from an improved second-half showing.
The match started well for the hosts as the kick-off bounced into touch to give them an early attacking set. The pressure was maintained and Ellis Dickinson forced his way over in the 5th minute. Bobby Howdle converted for a 6-0 lead.
When the visitors were in possession their strong runners always seemed to pose a threat and the home side had difficulty dealing with their kicking game, often conceding repeat sets.
Aidan Wright, Ben Garner, Adam Ford and Max Anderson all added tries for Barrow, two of which were converted by Adam Jackson to lead 20-6.
Beverley looked to be getting back into the game on the half-hour mark as they gave the ball plenty of air. They were perhaps a little too adventurous when a long pass was intercepted by Max Anderson who raced away to score. Adam Jackson added the extras and right on the stroke of half-time Nathan Sneesby crossed again converted by Jackson.
Beverley was left with a mountain to climb at the break. The second half did see the improvement. Five minutes into the half, Josh Hamlyn scooted out of the dummy half and looked to draw the full-back but his pass to his supports went to ground.
Now lifted the home side continued to press. Man of the match, Bobby Howdle crabbed across the field and found Billy Riby running a good angle to crash over. Howdle converted.
Set completion improved and good yardage was being made by the likes of Ellis Dickinson, Sam Roe and scoots out of dummy half by Dan Precious.
However, the home side had little option but to through caution to the wind in the attack. It proved to be their undoing, and on the hour a long pass was intercepted by Sam Jones to race away and score for the visitors.
To their credit, the home side refused to lie down and continued to press. In the 75th minute, a break by Sam Roe was backed up by Josh Hamlyn who did well to touch down with defenders in hot pursuit. Francis Coggle this time added the extras.
On the stroke of full time, a kick ahead by the visitors was fumbled by Beverley and bounced into the hands of Ryan Clegg who touched down wide out to complete the afternoon's scoring.