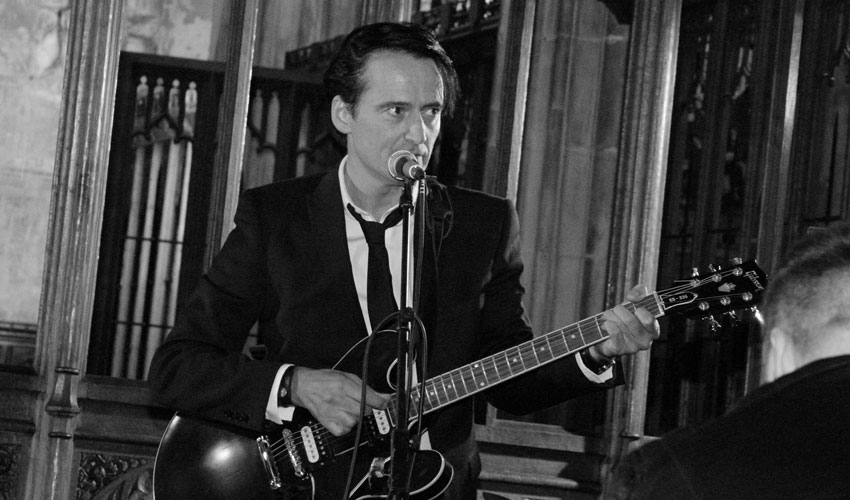 The Culture Train Tour 2021 is once again bringing a taste of the Hull music scene to communities in East Yorkshire after being derailed by the pandemic in 2020.
The fifth and final date of this years tour brings musicians to play at St Mary's in Beverley on Saturday 27th November with a lineup of Diddie Hair, The Cox Brothers, Jackson D, The Quicksilver Kings and Ruth Scott and James Wood of the Late Night Marauders.
These are five acclaimed acoustic acts and a large crowd is expected for the free concert on a Saturday evening.
Diddie Hair is a young singer-songwriter from Hull who has been performing for three years and has performed at the Humber Street Sesh, Tribfest, Made in Hull P&O Trip and was also the runner up in the 2019 Hull Daily Mail Star search final.
The Cox Brothers, John and Peter Cox are two talented local musicians who have been involved in the Hull music scene for many years, played at many festivals and on BBC Radio Humberside on countless occasions. John Cox has also appeared at St Mary's on numerous evenings assisting several acts and as part of Urban Rain who performed here in 2017.
Jackson D has been described as a unique vocalist and guitarist. An outstanding performer brimming with style. This is how the NME described him 'Jackson D is relentless in his style and that boutique sound. A truly original talent ' 'A unique performer – Brimming with style – Refreshing!!!' Jackson D will be supported by Percussionist Zachary Theodorou and bassist Frank Johnson.
The Quicksilver Kings are an Acoustic trio weaving elements of country, blues and pop over vintage rootsy songwriting. They have played at all the local festivals for several years and are firm favourites of BBC Radio Humberside's David Burns who has hosted live studio sessions for several years.
Our headliners are Ruth and James of the Late Night Maruders whose unique blend of soul, r'n'b & boogie is an Irrepressible delight. Late Night Marauders are led by whirlwind soulstress Ruth Scott and the piano wizardry of James Wood. Raised on a steady diet of classic R'n'B and jazz standards, Ruth developed a deep love for Ray Charles, Nina Simone, Etta James and Tom Waits to name just a few.
Sometimes performing as a duo, and other times as a full band with added rhythm and horn section, their songs evoke visions of smoky basement clubs in the 1950's where beatniks and jazzheads would party.
They are now one of the most popular acts in the region and fantastic act to finish off this year's tour.
The first act will be on for 7.30pm so people are advised to come early. The event is free so come along and enjoy a taste of the Hull music scene
The Culture Train Tour project was first held during 2017 help take music from the City of Culture to communities that were not touched by events linked to the 2017 Year of Culture such as Hutton Cranswick or Nafferton via trains running from Paragon Station along with the Hull to Bridlington rail line.
The 2020 summer tour was cancelled due to the pandemic but this has been rolling once again during 2021 with dates predominantly between September and November at large churches in a project once again funded by East Riding of Yorkshire Council's 'Active Creative' art fund
This is the fourth year of this project and so far around a hundred acts have been performed as towns and villages across East Yorkshire from Goole to Bridlington and Brough to Market Weighton and this year the tour has visited Newbald Village Hall, St Augustine's Church in Hedon, St Mary's in Cottingham and Bridlington Priory.
Twenty established acts from the Hull & East Yorkshire music scene will be performing at this year's gigs and this includes people such as Carrie Martin, The Arkut Brothers Elwhaeko, Listening Club, Jack Parker. Cuba Drive, The Happy Endings, Edwina Hayes, Laura Douse, The Quicksilver Kings, Ellie Pollard, Gold Needles and many more talented performers.
Chris Warkup of Quiet Riot Arts is looking forward to the project; "This is a great opportunity to promote Hull music outside of the city continue our project to bring talented musicians to churches and offer a chance to see great local music within your community after a year of lockdown. It is all free so check it out and a big thank you to the Active Creative fund for creating this opportunity for people to get out and see live music once again"
More details on the events can be found on the Facebook page CultureTraintour or @quietriotgigs for Twitter.