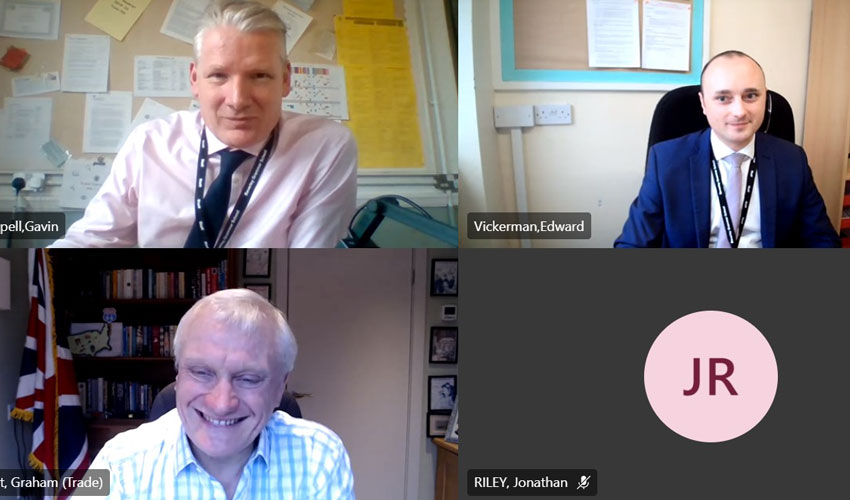 Graham Stuart, MP for Beverley and Holderness, virtually met Headteacher, Gavin Chappell, and Deputy Headteacher, Edward Vickerman, of Beverley Grammar School to hear how the school has been successful with their online learning provision.
The first lockdown was an important learning experience for Beverley Grammar, and they used the knowledge they gained to plan and put in place the correct measures for welcoming students back last September, and for the subsequent lockdowns.
They invested heavily in Chromebooks, which they were able to distribute to the students who needed them and ensure they had access to their online learning platform from home. It came as a surprise how many families did not have laptops, so it was important for them going forward to have a bank of laptops they can loan out long-term to students who are in need.
Staff had specialised training, so were upskilled and ready to teach live lessons from September onwards, with the hours of some part-time staff being increased in order to provide small group tuition as part of the school's catch up programme. They pride themselves on teaching the majority of their lessons live, with much praise received – 98% of parents surveyed were satisfied, or very satisfied, with the educational provision on offer and 99% said they had access to what they needed.
They have spent some of their catch-up funding from Government on the National Tuition Service to help students they feel would benefit most. Gavin and Edward were also proud to highlight their 'super curriculum', designed to stretch students who want to go above and beyond the standard curriculum to enhance their knowledge.
Gavin said;
"We had a great chat with Graham and told him about our positive experience with online learning. We are really proud of how our students are dealing with the challenges that have been thrown at them, and despite this unprecedented and especially difficult time, our students have been getting some cracking university offers, including from Oxbridge."
Edward said;
"We are really pleased that we could provide our students with the technology they need to access our online learning provision and how well it has been working since we went into lockdown in January. It was great to have the opportunity to share our experience with Graham."
Graham said "I have been so impressed by the work in our local schools to keep lessons going, and Beverley Grammar is no exception. Well done to staff and pupils on achieving so much over the past year."