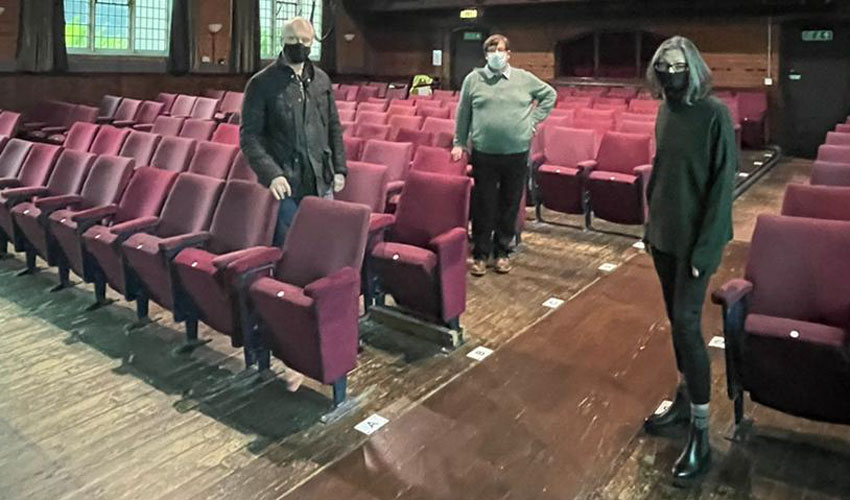 MP for Beverley and Holderness, Graham Stuart, has paid a visit to East Riding Theatre to meet its general manager Sue Kirkman following its £72,522 Government grant.
Theatres up and down the country have largely been forced to close their doors since March, which has meant East Riding Theatre has instead focused on maintaining an active online programme of events, with the help of locally-based freelancers.
But with very little income since March and continuing running costs, combined with future audiences likely being smaller due to social distancing measures, the meeting also acted as a good opportunity to discuss the difficulties which have faced the arts, culture and events sector.
The grant, awarded last month by the Arts Council, was part of the Government's £1.57 billion Culture Recovery Fund – described at the time as the largest single investment into the UK's arts and culture sector. East Riding Theatre was one of just over 1,300 theatres, arts venues and museums to benefit from an initial £257 million tranche of funding.
Graham said;
"It was a pleasure to meet Sue to hear first-hand about how hard the last few months have been.
"East Riding Theatre is a quality theatre which we've been lucky to have on our doorstep since it opened in 2014, but at the end of the day, it's an independent theatre with only limited resources, which relies on the passion and talents of volunteers to keep it running.
"I saw that ERT took part in the national 'Light it in Red' campaign to raise awareness of the industry's need for support. Over the summer, I wrote to my ministerial colleagues in the Treasury and the culture department to make the case for targeted support.
"I sincerely hope that this grant, coupled with the extension of the furlough and self-employed support schemes into next year, can help this excellent establishment pull through."
East Riding Theatre lit up in red in August and September in support of the Professional Lighting & Sound Association's #WeMakeEvents campaign to raise awareness of the plight of over one million freelancers who work in the sector.
Sue Kirkman added;
"I'd like to thank Graham for visiting East Riding Theatre to hear from us what it's been like since the outbreak of Covid-19. This much-needed support will help us to continue with our online content and prepare the theatre for a safe reopening next year.
"We remain committed to employing local freelancers, building up young people's talents and engaging with local volunteers. Although there is still a long way to go in terms of raising further funds, we now have the staff resources needed to help us strengthen our organisation.
"We look forward to returning stronger than ever in 2021 when we can once again support the local economy and bring joyous, life-affirming productions to our community."