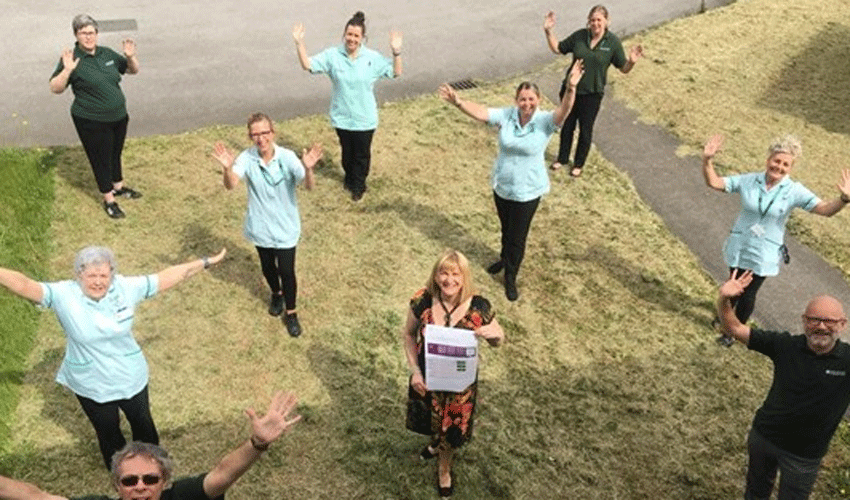 East Riding of Yorkshire Council's Community Support Services has received an 'outstanding' rating in its latest inspection from the Care Quality Commission (CQC) which took place on 5, 6 and 9 March 2020.
The Community Support Services is a domiciliary care service providing a reablement service to people living within their own homes in the East Riding of Yorkshire.
At the time of inspection, the service was supporting 64 people with personal care and their enablement.
Ratings are awarded on a four-point scale; 'Outstanding', 'Good', 'Requires Improvement', or 'Inadequate' and the categories inspected are Safe, Effective, Caring, Responsive and Well-led.
The service received an overall result of 'Outstanding', the highest category available.
The report said: "People were at the heart of the service and received extremely person-centred care. The registered manager's values and vision for the service were embedded by a remarkably committed, loyal, well-trained staff. Staff were incredibly passionate and pro-active in recognising people's diverse needs and supported them to regain control and autonomy over their lives.
"People received extremely high-quality, personalised support from enthusiastic staff who promoted self-esteem and wellbeing. Their individual needs, preferences, future wishes and expectations were fully evidenced in enablement care plans and risk assessments. Staff were very proud to work for the service and said they received superb support from the registered manager and management teams.
"People were supported to have maximum choice and control of their lives and staff supported them in the least restrictive way possible. The policies and systems in the service supported this practice.
"People said staff were caring and knew their needs very well. The staff clearly understood the importance of supporting them to regain life skills whilst ensuring dignity and respect. We observed many positive interactions where staff maintain people's independence whilst providing indirect support to aid with their enablement."
The results follow a recent visit from Ian Trenholm, chief executive of the CQC, who witnessed the ongoing work of the council's adults, health and customer services directorate, led by director, John Skidmore when managers and operational staff demonstrated their leadership strategies and collaborative work with partner organisations in a series of presentations and virtual site visits.
Councillor Vanessa Walker, portfolio holder for adult and carer services at East Riding of Yorkshire Council, said: "This fantastic result is down to the sheer efforts of the staff and managers who strive every day to support and care for their residents, despite the challenging times we are currently living in. Well done to everyone who helped to make this happen."
John Skidmore, director for adults, health and customer services at East Riding of Yorkshire Council, said: "I am delighted with the results of the latest inspection and my praise goes out to all the staff who have worked hard and continue to work hard to make this service the best it can be for the residents.
"The comments from the report shows just how well the team has worked together and with residents to provide a safe environment as well as enabling their independence.
"The managers and operational staff have done a fabulous job in demonstrating the leading-edge work taking place across the East Riding."
For more details, please see the full report which is on the Care Quality Commission website at www.cqc.org.uk