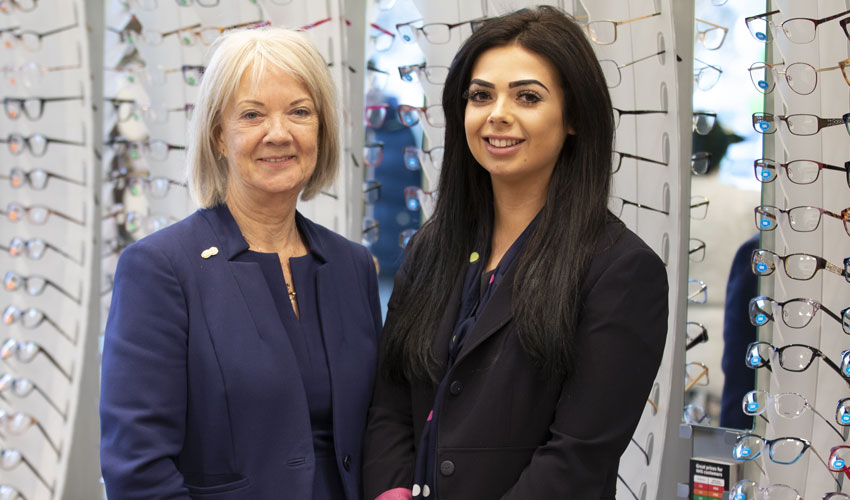 Specsavers has celebrated a successful year in business at Kingswood Retail Park.
The store has been part of the Kingswood community since November 2018, with its dedicated team of 19 staff always on hand to provide professional advice across optical and audiology care.
Now thanks to the support of the local community, the store is able to invest in its team with several members of staff undergoing training to support long term careers in optics and audiology.
Staff member Amy Jackson is currently studying to become a dispensing optician. She comments: 'After leaving school I was really unsure about what career path I wanted to take. Optics was a job I kind of just fell into and I absolutely love it. I've worked within optics for almost six years now and every day there is something new to learn.
'Since joining Specsavers I have been lucky enough to study to become a dispensing optician while still being able to work full time. The course I am doing is teaching me a lot of new skills that I am able to use while working in the practice, and progressing further and learning more skills is something I'm really enjoying.'
Georgia Richardson is studying Optometry at Aston University, which will enable her to become a fully qualified optometrist by 2023. Georgia comments: 'Specsavers has opened many doors for me, and provided me with great opportunities over the last three years. I began my journey as an optical assistant at the weekends, and have gained valuable experience through this role. From this, I discovered I wanted to pursue a career in Optics. I wouldn't be where I am without Specsavers and the brilliant members that make up its strong network.'
David Proudfoot, store director at Specsavers Kingswood, comments: 'Since we moved in a year ago we've had great support from the local community and everyone has made us feel really welcome in the area.
'As a result, we're able to invest in local people to provide secure jobs that translate into long and exciting careers for many of our colleagues.'
The store celebrated its first anniversary on Wednesday 27 November, with special guest Rory the Tiger, Hull City FC mascot in attendance. Balloons and cupcakes added to the party atmosphere.