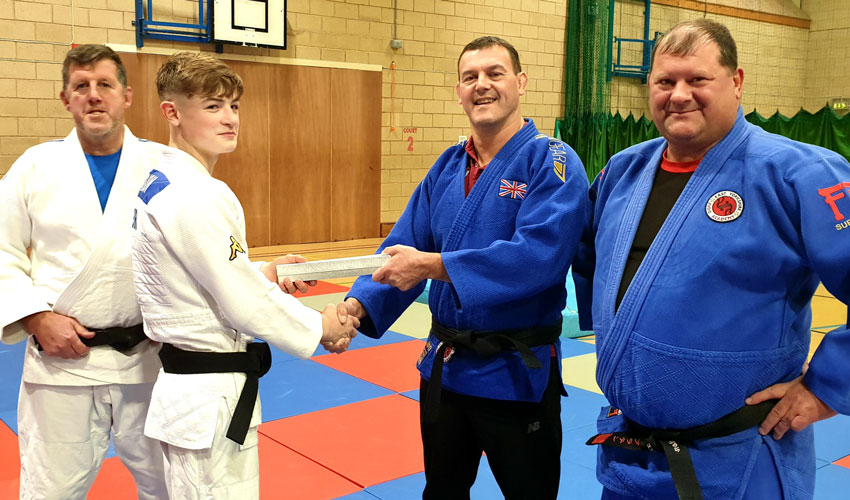 Tommy Jackson of East Yorkshire Judo Academy was flying the flag for the club in an action-packed weekend of country hopping.
He was competing at the Bayer International Tournament in Leverkusen, Germany.
After a close loss in the first round to a talented Japanese player, Tommy (14) fought exceptionally well. He came back in a series of fights beating older and high-level players from Germany, Holland and France.
Tommy's winning run eventually ended close to winning a bronze medal, but unfortunately not on this occasion.
On Sunday Tommy had travelled to Belgium to take part in the Luxcup International in Bastogne; he was on top form and quickly beat his opponents in the early rounds.
Tommy displayed a wide range of judo, winning fights with a variety of throws and strangles. He reached the semi-finals before a good close fight saw him edged out by the eventual tournament winner.
Tommy Jackson Picks Up Bronze Medal
He was very pleased to pick up a Bronze medal on the international stage, and with such tough competition, it was a testament to his ever-improving abilities.
Tommy reached his 15th birthday last weekend (19th October) and as such has become old enough to wear the coveted black belt. In judo, the minimum age for achieving this grade is 15.
Tommy passed his theory exam and scored the required competition points some months ago. However, he had to wait as per the rules. As with all new Dan grades (black belts) at East Yorkshire Judo Academy, he was awarded his new belt during a training session.
With only a short rest Tommy will be flying out to Slovenia next. He has been selected by England to represent his country in a European Cup round. He will then attend a 2-day training camp with Europe's best judo players and then return to begin final preparations for the British Championships.