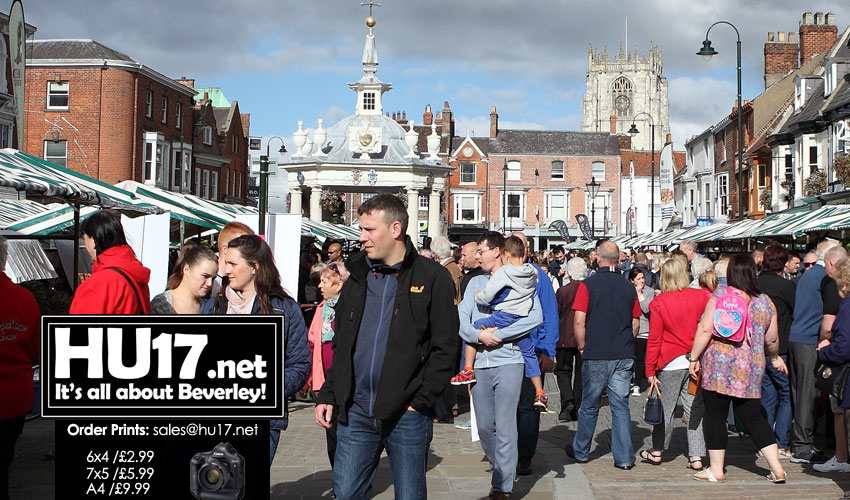 When Beverley Town Council organised the first Food Festival in 2006, little did they know it would go on to be an annual success enjoyed by thousands of people.
The original idea was to bring a few producers from Beverley's rural hinterland into the town centre to help celebrate local food, so on a crisp Sunday morning in 2006, thirty-five producers set up their stalls along with a small Food Theatre.
It proved to be a big success for the Town Council – one that has grown stronger year on year. This was the first Food Festival in the East Riding and has led the way for several to follow.
Now, fourteen years later this has become an award-winning event, winning the Yorkshire Region Countryside Alliance Award for Food and Drink along with representing the county at national level on 19th June 2019, in 2017 winning the North of England 'Rural Oscar for Tourism' and commendation at national level, and 'Remarkable East Yorkshire Tourism Award for Best Large Event' in 2016.
This year approximately 120 plus stalls will be attending the event, alongside the well-loved Local Food Theatre Marquee. It is anticipated that thousands of people will attend, to enjoy the free community event, bringing a welcome economic boost not just to the food producers, but also to retailers and the local hospitality trade.
This year there is an education ingredient to the event as students from East Riding College join in to help in the Food Theatre which is partly sponsored by the East Riding College, EY Events and Hull & East Yorkshire Hospitality Association.
John Cossham will be giving talks on food-waste and composting in line with environmental themes. Additionally this year the Mayor of Beverley, Cllr Duncan Jack will be hosting a charity stall raising funds for the Beverley local Foodbank, profiling the need within our area. We are also to be joined by a celebrity Yorkshire guest chef Nigel Brown from his Academy in Barton-on-Humber.
The Mayor of Beverley Cllr Duncan Jack said;
''We are delighted to welcome back our wonderful local chefs with a few guest appearances from friends and local producers in the Food Theatre which is sponsored by Beverley Town Council, this really helps to keep the Beverley Food Festival at the heart of the community and profile other organisation and charities within our town."
"Thanks also to the Beverley Town Council officers and collaborative partners for organising this event, a lot of work goes into planning and managing the day, for the townsfolk and visitors to enjoy. This award-winning Food Festival has really put Beverley on the foodie map."
"This is also a day to come along and meet your new local Councillors on the Beverley Town Council stall and say hello. Beverley will also be hosting visitors from our twin town, Nogent sur Oise in France, ''.
Starting at 9:30am on Sunday 6th October, with an official opening by The Mayor of Beverley Councillor Duncan Jack at 10.00am, the festival runs until 4.30pm, with a wide range of different foods from around the region available to purchase and enjoy.
Shoppers can find everything from locally reared meat and traditional preserves, to tasty tangy cheese and real Yorkshire ale. One of the favourite festival sights is hundreds of people walking around the streets of Beverley, with sticks of freshly bought local sprouts over their shoulders! Additional these traditional stalls will be some carefully selected hot food vendors, giving people the chance to taste some terrific street food not usually available in our market town.
Once again, the Food Theatre Marquee will be open to the public, with a host of local chefs ready to whip some ingredients from stallholders into delicious and exciting dishes. As usual, a highlight will be the hotly contested HEYHA Copper Saucepan Apprentice Chef competition, with two local aspiring apprentice chefs.
Town Clerk, Ms Helen Watson said;
"The Beverley Food Festival is a calendar event which residents and visitors look forward to each year. It's all about celebrating, local food and family musical entertainment within our lovely town. Beverley was founded around 721 by St John, and it became a town of sanctuary and pilgrimage for many, here there would have been feasting and music within the community, so in 2019 we are still able to offer a warm welcome to this free community event to continue the long-established customs of old. It all adds to the vibrancy of our beautiful town. We would also like to thank our sponsors EY Events, HEYHA and East Riding College''.
Familiar festival friends Professor Fiddlesticks, Bandanarama and the All For One Choir will be out and about to entertain families, whilst other local musicians are present. The Beer Festival and the Gentle Festival are also joining forces with the Food Festival weekend for a community celebration. Beverley Garland Dancers will put in a jolly dancing appearance.
Beverley Food Festival is part of British Food Fortnight, Chef Raymond Blanc has said "This is a great event and it has obviously grown in popularity and its offering over the years. What a good example for others to follow. This is the perfect way to involve local suppliers and farmers to get in front of their community and I would be keen to know how many of them got on having been involved. A fantastic event that I am sure will continue to grow and grow."
Beverley Town Council hopes residents will have an appetite to once again join the festivities on Sunday 6 October 2019, where there will be something available to suit all tastes. A family day of food festivities and fun!