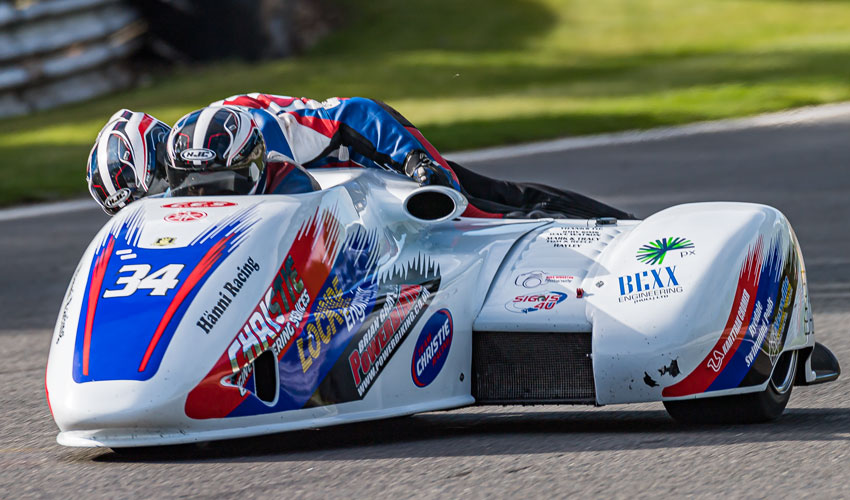 June was a great month for Beverley based sidecar team Sam & Adam Christie. It saw the team head down south to Brands Hatch for the second round of the British Championship.
The brothers were using this as extra track time two weeks ahead of the second round of the World Championship at Pannoniaring in Hungary.
Qualifying went well for the team resulting in them lining up in 6th place for the first race in a close field of sidecars. Due to the event running out of time, Saturday's race was reduced to a 6 lap dash.
The Christie brothers were running well in 5th place until an unfortunate coming together at the front of the field caused the red flags to come out. This promoted the brothers up to a third place and a podium finish.
The reverse grid situation for the second race meant that the Christie's would start from 7th on a drying track due to earlier rain.
They took a cautious start to the race and picked there was through the field to finish 4th and finishing the weekend in an excellent 3rd place in the championship.
Later in the same month the Christie's head to Pannoniaring in Hungary for the second world championship round.
After the long haul to the circuit and a couple of free practice sessions, qualifying took place in temperatures exceeding 30 degrees.
An impressive performance saw them put a lap time in good enough for 5th place on the grid with the 9 lap sprint race held later in the evening.
The temperature had dropped a bit and a race-long battle commenced with the Christie's being sandwiched in the middle of Sattler and Streuer in the 6th position.
Starting the last lap, Team Streuer made a move into the first corner to move the Christie's down to 7th.
Two Corners later, the Christie's would take the place back on the brakes into the hairpin and had their sites on 5th place.
They would make a move on the penultimate corner and took the chequered flag in an excellent 5th position. The 15 lap gold race was held the following day.
Slightly less eventful than the sprint race, Team Christie was locked into a race-long battle following Team Streuer but weren't able to make a move stick so crossed the line in a respectable 6th place to gain more valuable championship points.
Team Christie is now 5th in the championship standings and looking forward to the next round at Oschersleben in 2 weeks.