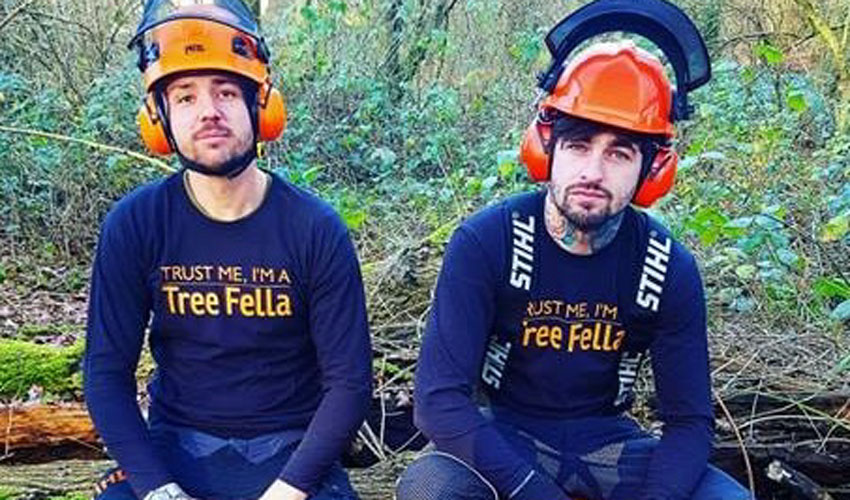 Two entrepreneurs want to help new companies in Hull grow after funding allowed their tree surgeon business to branch out.
Sarah Fenwick, 28, and Gareth Pennington, 29, have set up The Tree Fellas Hull, which specialises in tree-planting, pruning and felling.
The pair received support from Hull City Council and the John Cracknell Youth Enterprise Bank in the form of grants and mentorship.
They now want to give something back by in turn acting as mentors for aspiring young entrepreneurs.
The family-run business received a grant of £900 from the Youth Enterprise Bank, which helped them bid for public sector contracts and funding for the kit, plus access to courses worth a further £1,000.
Sarah and Gareth are now working on a project to showcase the skills of their tree surgeons in a video directed by Kristian Barres, who has worked for Sky Sports and other broadcasters.
They are aiming to launch the video in Humber Business Week, which takes place from Monday 3 to Friday 7 June.
Sarah said: "We have just landed two commercial contracts, which will hopefully take us through to the commercial market, and we have been doing work for Griffin Primary school, which hopefully will open doors to work within more schools.
"We wanted to reach out to other young entrepreneurs who have an idea or a talent they wish to showcase to prove that, no matter what your background is, you really can do anything you want to do in life – and to reach for the stars.
"We would like to say a huge thank-you to Hull City Council and the Youth Enterprise Bank for their support for our growing business and we are looking forward to working with them on some exciting projects."
Councillor Darren Hale, deputy leader of Hull City Council, said: "I am pleased that Hull City Council is supporting more young people in partnership with the Youth Enterprise Bank in Hull.
"It is always a privilege to hear about the successes of young people in establishing a business, but even more so when they are wanting to put something back. I wish Sarah and Gareth well and look forward to hearing more about their enterprising idea."
Jo Watson Davis, chair of the Youth Enterprise Bank, said: "We are pleased to be supporting Sarah and Gareth with a grant and to give them access to a mentor and work with them through Goldings so they can undertake SAGE IAB Level 1 and 2 Computerised Accounting for Business.
"Panel members were extremely impressed with their application and delighted that they want to be speakers during Global Entrepreneurship Week and to become a business mentor for young people on Hull City Council's Making Changes for Careers Programme."