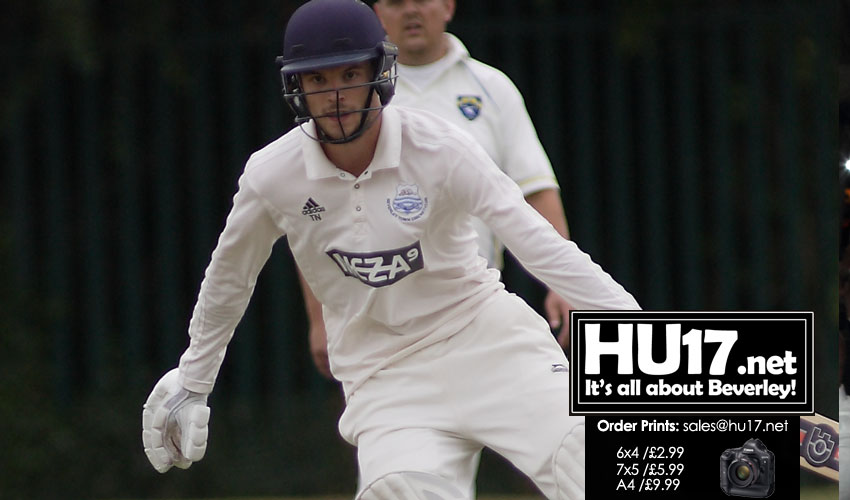 Last weekend brought a bumper crop of points for Beverley Town Cricket Club as they recorded two wins and three winning draws from their five games.
York Senior League
Premier Division
Beverley 1st XI 254 for 7 drew with Easingwold 1st XI 142 for 9
Another solid all-round batting performance brought the 1sts 27 points from a possible 30 against Easingwold. Choosing to bat on a good surface in excellent conditions Town made a cautious start. It was Pete Shally's turn to head the scoring as he took control following the run out of Harry Gamble (18). Shally was given support, briefly by Olly Grantham (15) and then by Andy Burton until Shally went for 82 (11 x 4, 2 x 6) at 145 for 4. A rejuvenated Greg Whyley joined Burton and they added 48, Burton out for 44 at 193 for 5. Whyley went on to make an excellent unbeaten 63 at better than a run a ball while Mike Cooke contributed a useful 18 in a total of 254 for 7.
An early wicket for Kieran Thompson (1-16) was followed by a period of calm before Matt Mudd (3-38) snapped up two quick wickets to leave Easingwold at 57 for 3. With the visitors behind the run rate the game meandered until at 141 for 6 with only a handful of overs left Brad Graham (4-24), finding some real form over recent weeks, struck three times to leave Easingwold having to unexpectedly bat out carefully at 142 for 9.
Division 1
Beverley 2nd XI 167 all out drew with Ripon 1st XI 131 for 9
A thunderstorm on Friday on an uncovered wicket left Ripon with problems but a 44-over game was able to be played as the bottom club entertained second-placed Town 2nds. Will Parker and Rob Fish dominated the batting as Town made a respectable 167 all out using all of the available overs. Parker made 52 (10 x 4s) and Fish 57 and Iain Gillyon (10) and Tom Haytack (13) were the only other batsmen in double figures.
In an effort to force a positive result Town used five bowlers and they each claimed wickets. Joey Franklin (4-34) continued his happy knack of hitting the stumps by bowling three of his four victims and Ben Fish made up for a batting failure with 2 for 20. Wickets also went to Haytack (1-17), Pete Parnaby (1-24) and James Emery (1-20) but the elusive tenth wicket failed to materialise as Ripon closed on 131 for 9 giving Beverley a welcome 25 points for the draw.
Holderness Division 2
Beverley 3rd XI 169 for 9 beat Hull Zingari 2nd XI 132 all out by 37 runs
The 3rds got back on track with a good home performance that brought about a well-earned win at home to a strong-looking Hull Zingari side. All of the top order batsmen made starts but none went on to a big score as Richie Singh led the way with 28 and Tim Smith (18), Will Harrison (18) and Alex Nightingale (16) also featured. After losing the rest of the lower middle order cheaply and the total on a precarious 106 for 7 it took useful runs from Kieran O'Brian (18) and Owen Parnaby (42 no), fresh from his sparkling maiden half-century the night before, to lift Town to a decent total of 169 for 9 from their 45 overs.
Zingari had moved with relative ease to 41 without loss before Craig Foster (1-23) struck for Town. When Singh got in on the act Town were back in the game at 65 for 2. 65 for 2 was soon 65 for 4 and a remarkable period of just four runs and seven maidens from eleven overs followed, as Singh (1-10 from 10 overs) and Matty Saint piled on the pressure. The visitors rallied however and at 110 for 4 they were in the driving seat. A vital wicket for Saint (4-37) to a smart catch from Will Harrison followed by another to the same combination left Zingari on 113 for 6 and the game had changed. The return of the so far wicket-less Parnaby and O'Brian to the attack brought the remaining four wickets required with only a few runs added. Man of the match Parnaby (2-24) took two boundary catches off O'Brian (2-29) as Zingari were bowled out for 132 with three overs to spare.
Holderness Division 4
Beverley 4th XI 247 for 6 beat Walkington 244 for 5 by 4 wickets
A high scoring match at Walkington was only decided in the last over when Town 4ths secured a promotion place with a win by four wickets. Walkington were the only team to leave Norwood unbeaten so far this season and a good batting performance matched by an under par Town bowling display saw them rattle up 244 for 5 in their 45 overs. Wickets were at a premium as Martin Oosthuizen (2-45); Charles Fish (1-30) and Kieran Simpson (1-22) were the only ones to have anything in the wickets taken column.
Opening batsmen Oosthuizen (45) and Ian Pratt (74) gave Town hope of an outright win but the failure of the middle order caused concern. Fish, however, remained unbeaten on 39 and with the help of Graeme Taylor (17) and Simon Lazenby (8 no) he saw his side home with five balls to spare.
Sunday Conference
Beverley 5th XI 268 for 9 drew with Driffield 5th XI 257 for 4
A run-fest at Driffield saw the 5th XI return to the top of the Sunday Conference to round off a great weekend for the club. Asked to bat first Town's runs were shared out led by Kieran Simpson's unbeaten 48. 13 year-old Adam Pashby made his highest senior score of 41; Tom Barnard scored 40; stand-in skipper Matt Hudson made 34 and Brad Beynon 28 in an all-round batting display.
Driffield made a great effort to overhaul Town's impressive total but fell just short on 257 for 4. Beynon (2-41) had most success of the eight bowlers used by stand-in Beverley captain Matt Hudson while Pashby and Simpson took one wicket each.