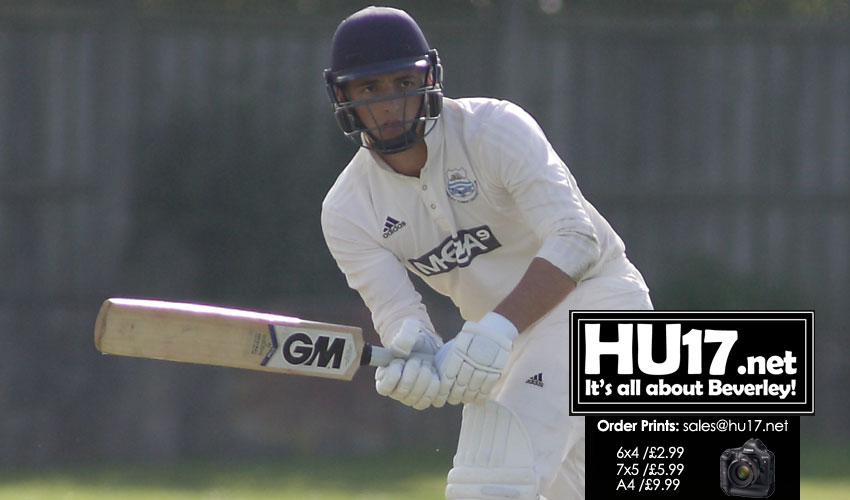 Beverley Town Cricket Club had a win, a draw and a loss from their three played games last weekend.
It was disappointing to have both the 3rd and 4th XI games cancelled as the opposition could not raise teams but the 2nds and 5ths maintained their high positions in their respective leagues with very good results.
York Senior League – Premier Division
Beverley 1st XI 186 all out lost to Dunnington 188 for 6 by 4 wickets
An opening stand of 89 between Harry Gamble and Ben Hatfield gave Town 1sts a good start after they elected to bat first. When Hatfield (52) and Gamble (33) went in the space of five runs the game changed and a familiar collapse followed leaving Town at 107 for 5. Some hard work by the lower middle and late order meant Town were able to post an all-out score of 186 with Brad Graham (17) and Jamie Roe (16) the highest scorers.
At 7 for 1 and 44 for 2 Town looked as though they may have a chance as Tom Haytack (2-36) turned in another useful performance, reaching twenty league and cup wickets in the process. Jamie Roe took 2 for 51 and Kez Thompson and Brad Graham each took a wicket but, despite Town's best efforts, Dunnington made 188 for 6 from 48 overs. Wicket-keeper Mike Cooke added three more victims to his impressive total for the season to no avail.
Division 1
Beverley 2nd XI 211 all out drew with Heworth 161 for 9
Town 2nds won the toss and elected to bat at Heworth. Will Parker reached 650 league and cup runs for the season with 31 despite losing two partners early in proceedings. At first Greg Whyley (14) and Iain Gillyon (23) offered valuable support to Rob Fish who made a patient unbeaten 64 in 120 balls but the innings was given real impetus by Alan Acklam's 42 from 38 balls as Town closed on 211 all out in the last of their allocated 48 overs.
James Emery's excellent 4 for 18 put Town in charge as the home side were left in trouble at 65 for 6. Owen Parnaby got in on the act with an early wicket before Joey Franklin (2-20) and Guy Brumfield (1-26) kept the pressure on. Despite a late flurry of runs Parnaby (2-29) returned to claim the ninth wicket but the elusive tenth failed to materialise and Heworth hung on at 161 for 9. Town took 27 points from the draw to remain in third place in Division One.
Holderness Sunday Conference
Beverley 5th XI 130 for 6 beat Welton & Brough 3rd XI 129 all out by 4 wickets
Jack Barnett's unbeaten 41 and 35 from captain Rich Simpson saw Town home in a close finish at Welton when their side was in big trouble at 35 for 5. Earlier Welton had got off to a blistering start and at 90 for 1, a wicket for Matthew Bloomfield, looked to be set for a huge total. However the introduction of Simon Lazenby and a crucial wicket for Barnett (1-39) slowed proceedings almost to a halt. Nine wickets fell for 39 runs as accurate bowling from the experienced duo of Lazenby (4-18) and Jonathan Sowter (4-7) helped by some good catching, including three for wicket-keeper Tom Patey, reduced Welton to 129 all out.
When Simpson was sixth out at 106 Town still had work to do but Under 15 regulars Barnett and Haydn Hudson (17 no) saw Town home with exactly one over to spare. Town remain unbeaten in the Sunday Conference and this won moves them to the top of the table after ten games.